BrightBuilt Home Bungalow Prefab Home
The Bungalow prefab home model by BrightBuilt Home is a compact, high-efficiency New England-style home well suited for smaller urban lots and vacation properties. The home is built to be air-tight and very energy efficient. High R-Value insulation, energy smart design, roof mounted solar panels and triple glazed windows all contribute to a low cost, comfortable build.
The home is also designed and built to be healthy with low VOC paints and sealants, formaldehyde free products and a high efficiency air exchange system.
The living spaces offer open, light-filled living with a combined kitchen, dining and living area. A large master bedroom and bath with walk-in closet and a second bedroom with adjacent bath provide ample private space in a compact home.
BrightBuilt Home Bungalow Features
Solar panel powered
Window overhangs shade sun
Natural ventilation
Insulation: R-60 Roof | R-40 Walls | R-20 Foundation
Triple pane windows
ZipSystem air-tight build
Air exchange system
Low VOC, Formaldehyde free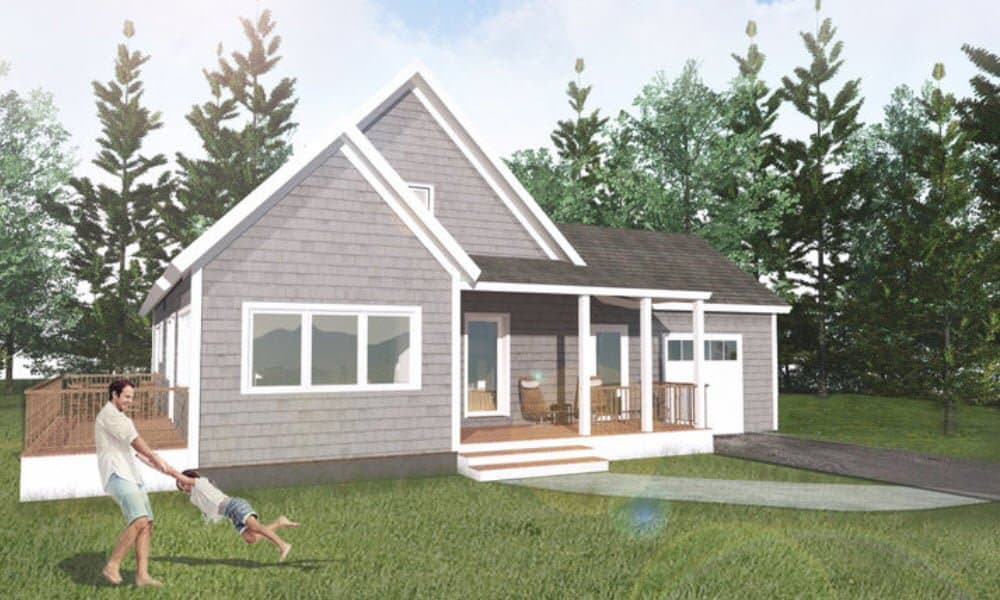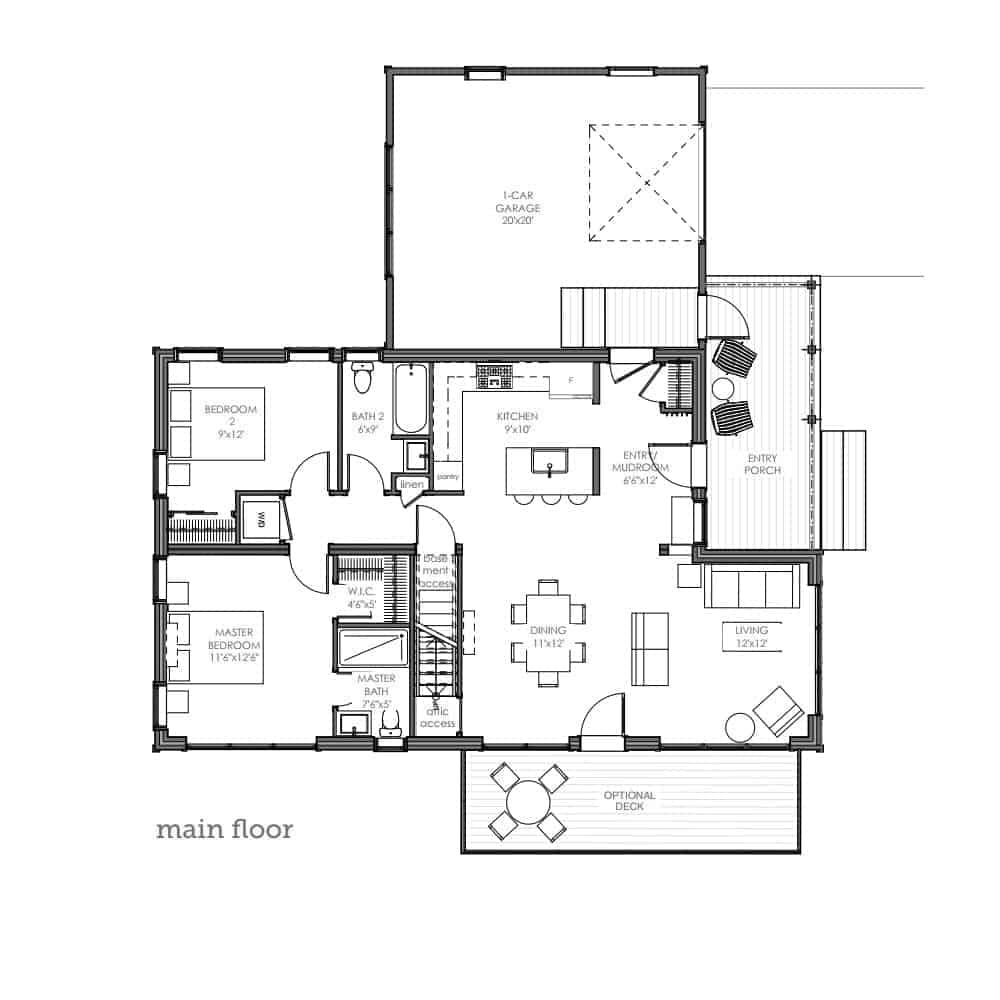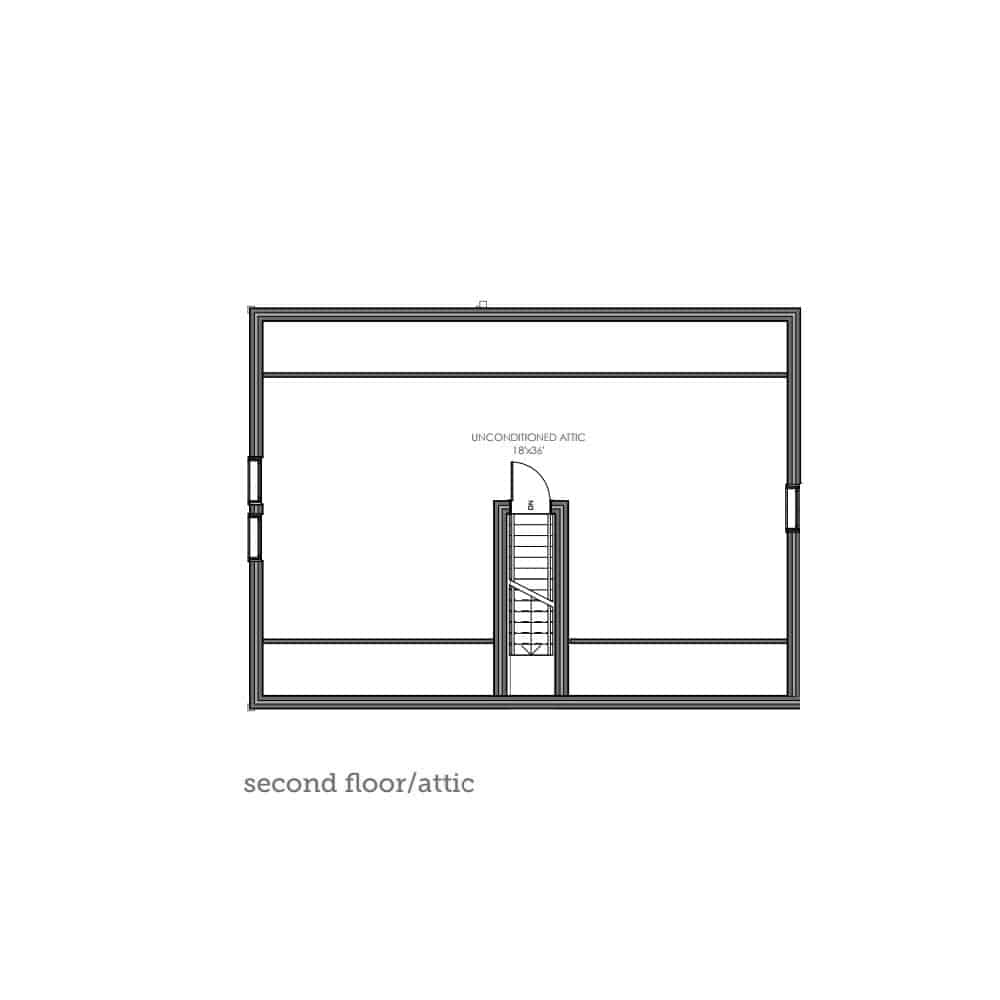 BrightBuilt Home Bungalow Room Summary (ft.in)
First Floor
Public Living Space
Living (12 x 12)
Dining (12 x 11)
Kitchen (10 x 9)

Private Living Space
Master Bedroom (12.5 x 11.5)
Master Closet (4.5 x 6)
Bedroom (9 x 12)

Bathrooms
Master Bath (7.5 x 5)

Utility Space
Foyer (12 x 6.5)
Mudroom (12 x 6.5)
Laundry (3 x 3)

Outdoor Space
Build Details
| | |
| --- | --- |
| Foundation: | Foundation Wall & Footings |
| Roofing: | Asphalt singles |
| Framing: | wood & wood |
| Shealthing: | OSB |
| Construction Notes: | |
| | Sun shading trellis overhangs, window placement for additional sun, warm during winter |
Insulation
Ceiling:

(R | Type)

R-40 dense-pack cellulose

Wall:

(R | Type)

R-40 dense-pack cellulose

Ceiling:

(R | Type)

R-60 dense-pack cellulose
Finishes
| | |
| --- | --- |
| Siding: | Multiple Options |
| Windows: | Energy-efficient, triple-glazed windows |
| Entry Doors: | |
| Sliding / Terrace Doors: | |
| Walls: | |
| Floors: | |
| Interior Finish Notes: | |
BrightBuilt Home Bungalow Package Includes
Appliances
| | |
| --- | --- |
| Range: | |
| Cooktop: | |
| Microwave: | |
| Oven: | |
| Kitchen Hood: | |
| Refrigerator: | |
| Dishwasher: | |
| Washer / Dryer: | |
Kitchen
| | |
| --- | --- |
| Countertops: | |
| Kitchen Cabinets: | |
| Kitchen Sink: | |
| Kitchen Faucet: | |
Bath
| | |
| --- | --- |
| Bath Sink: | |
| Bath Faucet: | |
| Toilet: | |
| Bath Tub: | |
Mechanicals
| | |
| --- | --- |
| Water Heater: | |
| HVAC Heating: | |
| HVAC Cooling: | |
| Ventilation System: | |
| Solar Panels: | |
| Alt Energy System: | |
| Green Home Features: | |
Green Home Features
| | |
| --- | --- |
| Green Home Features: | |
| Alt Energy System: | |
| Solar Panels: | |