Node /
Juniper
Node Juniper Prefab Home
The NODE Juniper series home is a single family home with design options ranging from 1,200 square feet to 2,400 square feet, and from one to four bedrooms and one to three bathrooms.
Like all NODE home models, the Juniper is designed to be ultra-efficient and operate at net zero carbon or even net negative carbon levels. These homes are built using Passive House design principals (PHIUS) and feature high-quality, environmentally-responsible building products and materials, such as American-made doors and windows by Alpen High Performace Products and sustainably-source lumber and sheathing. 
Multiple packages are available for off-grid energy generation and all NODE homes are pre-wired for solar energy generation. 
Node Juniper Features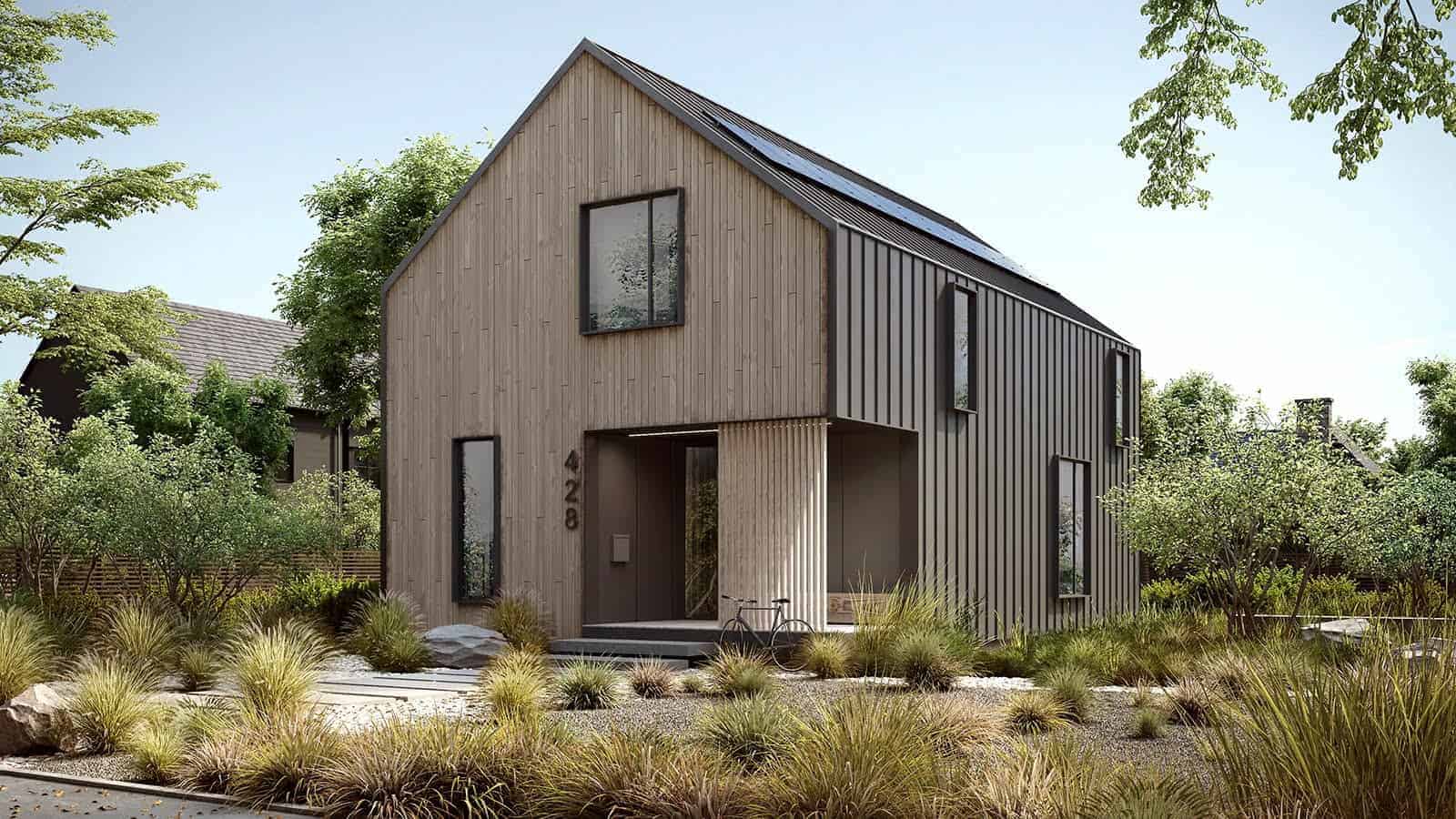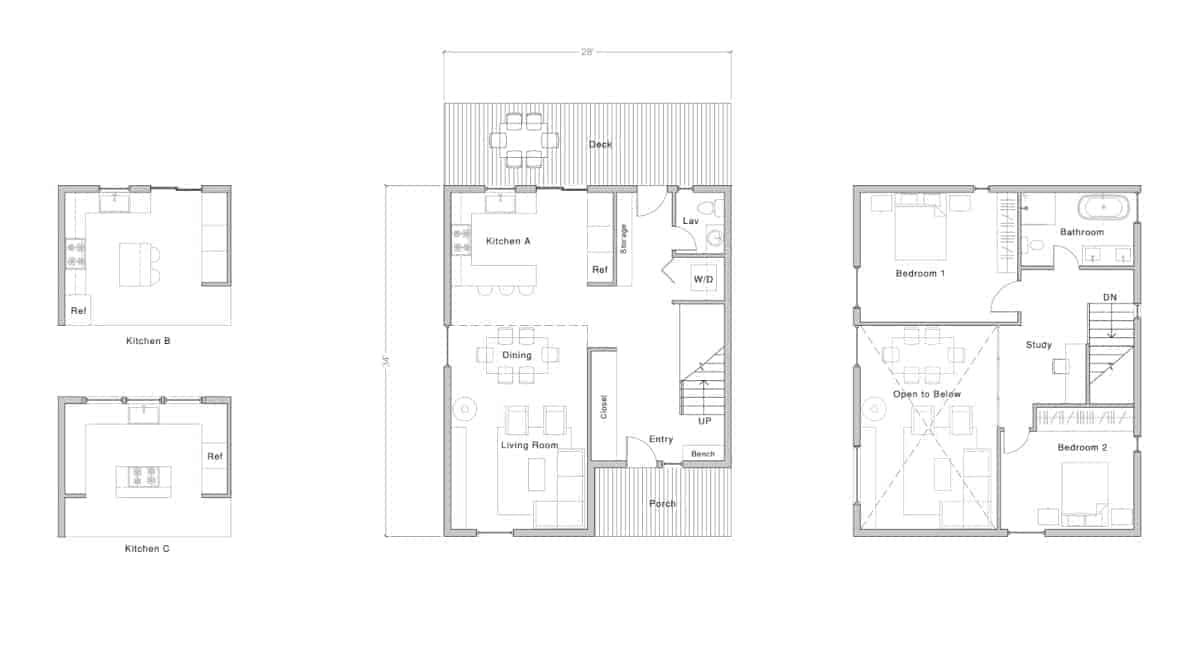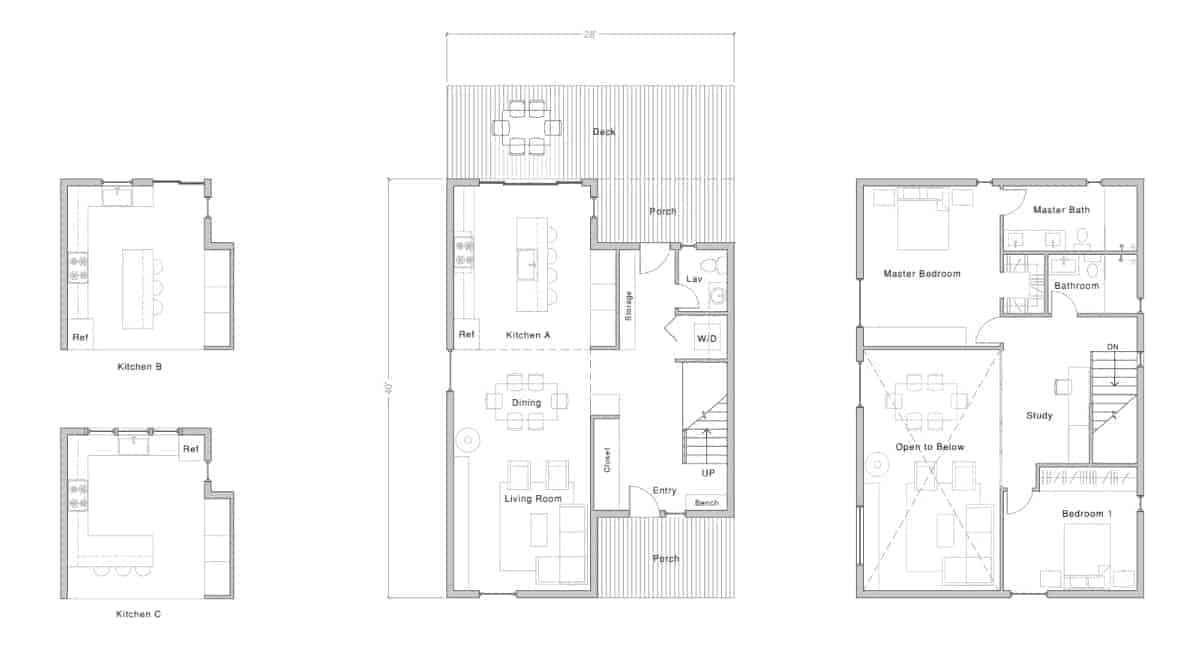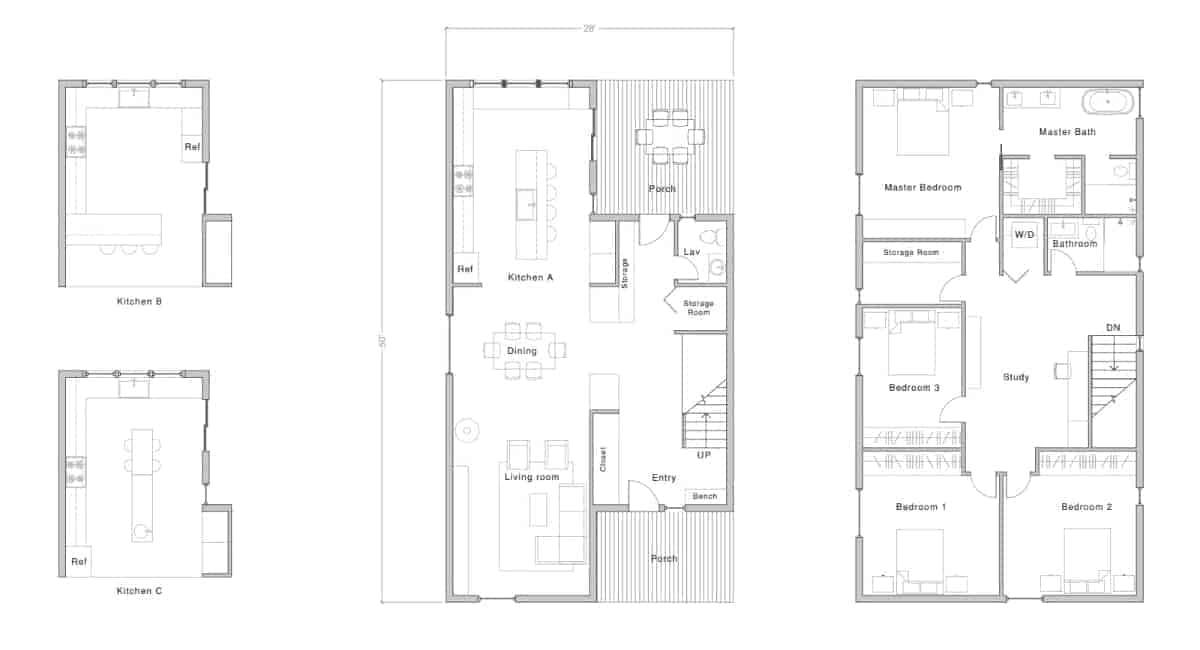 NODE Juniper Series Room Summary (ft.in)
First Floor
Public Living Space
Private Living Space
Bathrooms
Utility Space
Outdoor Space
Build Details
| | |
| --- | --- |
| Foundation: | Diamond Pile or Stem Wall |
| Roofing: | EPDM membrane / Metal |
| Framing: | wood and engineered wood & Forest Stewardship Council (FSC) or Sustainable Forestry Initiative (SFI) wood |
| Shealthing: | OSB, Plywood |
| Construction Notes: | |
| | |
Insulation
Ceiling:

(R | Type)

R-43.5 at least - Insulation per zone for zero-net energy

Wall:

(R | Type)

R-43.5 at least - Insulation per zone for zero-net energy

Ceiling:

(R | Type)

R-60 at least - Insulation per zone for zero-net energy
Finishes
| | |
| --- | --- |
| Siding: | Fiber Cement / Cedar T&G / Metal Siding |
| Windows: | Alpen High Performance Windows |
| Entry Doors: | Alpen or Cascadia |
| Sliding / Terrace Doors: | |
| Walls: | Drywall or Paneling |
| Floors: | Wood, laminate or tile (upgrade) |
| Interior Finish Notes: | |
Node Juniper Package Includes
Appliances
| | |
| --- | --- |
| Range: | Electric (model varies ) |
| Cooktop: | All electric. Make can vary |
| Microwave: | Electric (model varies ) |
| Oven: | Electric (model varies ) |
| Kitchen Hood: | Electric (model varies ) |
| Refrigerator: | Electric (model varies ) |
| Dishwasher: | Electric (model varies ) |
| Washer / Dryer: | Curated packages, upgrade options |
Kitchen
| | |
| --- | --- |
| Countertops: | laminate to quartz to stainless |
| Kitchen Cabinets: | Curated packages, upgrade options |
| Kitchen Sink: | Curated packages, upgrade options |
| Kitchen Faucet: | Curated packages, upgrade options |
Bath
| | |
| --- | --- |
| Bath Sink: | Curated packages, upgrade options |
| Bath Faucet: | Curated packages, upgrade options |
| Toilet: | Curated packages, upgrade options |
| Bath Tub: | Curated packages, upgrade options |
Mechanicals
Water Heater:

Electric

HVAC Heating:

Heat pump

HVAC Cooling:

mini-split option

Ventilation System:

Heat/Energy Recovery System included

Solar Panels:

upgrade option, pre-wired for solar included

Alt Energy System:
Green Home Features:

- options to meet USGBC LEED certification
- Living Building Challenge Certification options
- Passive House design/building principals
- solar w/battery systems option
- ERV/HRV systems included
- Super-insulated based on zone
- low-impact foundation system
- grey water recovery system options
Green Home Features
Green Home Features:

- options to meet USGBC LEED certification
- Living Building Challenge Certification options
- Passive House design/building principals
- solar w/battery systems option
- ERV/HRV systems included
- Super-insulated based on zone
- low-impact foundation system
- grey water recovery system options

Alt Energy System:
Solar Panels:

upgrade option, pre-wired for solar included