NODE /
Madrona
NODE Madrona Prefab Home
The Madrona Series of modern prefab homes by NODE offers the flexibility of a customizable, connected multi-module home design system.
Select modules from a menu to create custom living spaces. Easily add-on or remove modules (Nodes) as needed. Standard modules (Nodes) include; Living Node, Bedroom Node, Pavilion, and Utility Connector Nodes. Individual Nodes range from 165 to 572 square feet in size are easily connected via covered walkways, allowing for a variety of configurations.
NODE Madrona Features
Menu-style system of connected custom modules (Nodes)
Easy to up-size or down-size
Eco-friendly, high-efficiency design
Floor to ceiling spans of glass
NODE designs, builds and sells high-efficiency, eco-friendly prefab homes. Home designs aim to be "radically sustainable" with off-grid and carbon negative designs. NODE's sustainable building designs and features support USGBC LEED certifications up to platinum.
NODE homes are factory-built, delivered 95% complete as modular components and assembled onsite. Building designs support future addition or subtraction of components. Curated selection packages are available for appliances, fixtures, and finishes.
NODE not only aims to build a better home but improve the home buying and building process as well. They strive to provide a predictable, reliable buying process that is on time and on budget. Each home purchase includes; local permitting, site preparation and foundation, delivery and setup, utility connections and ongoing service and maintenance.
Currently, NODE homes are available in the Western United State and Mountain Areas.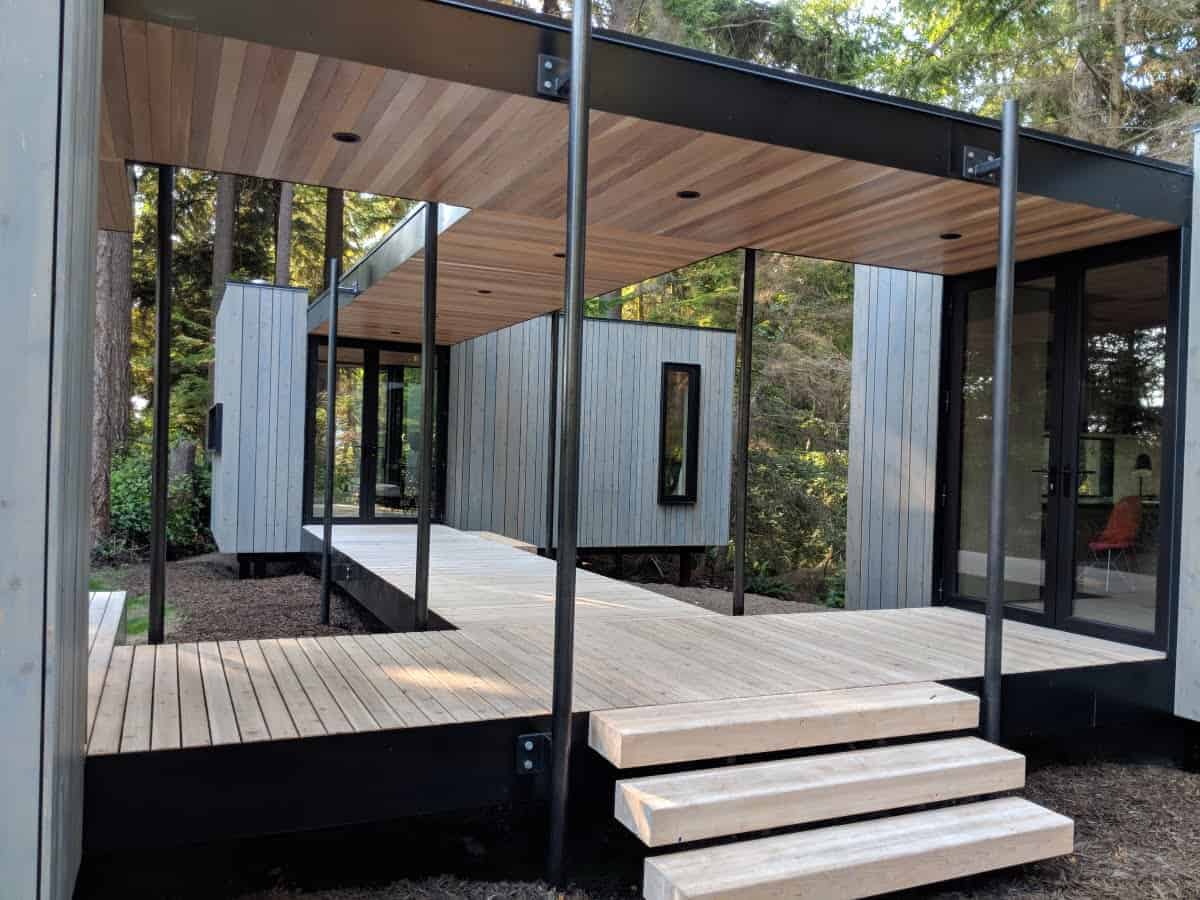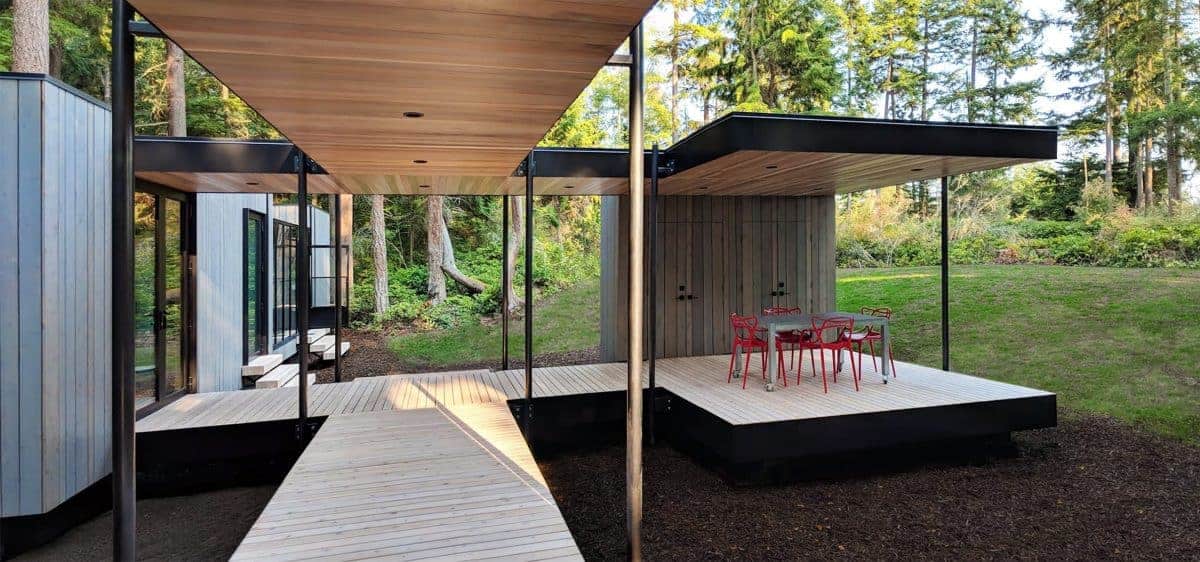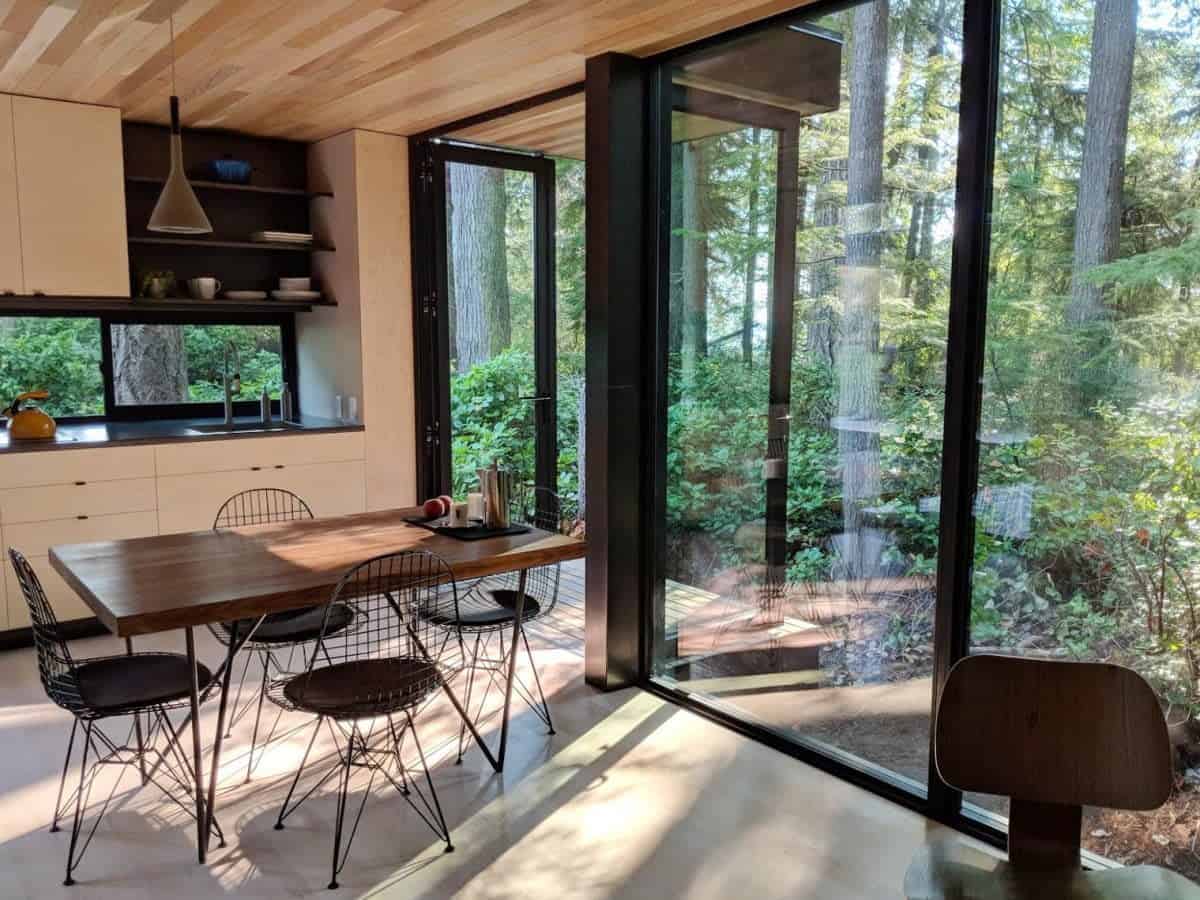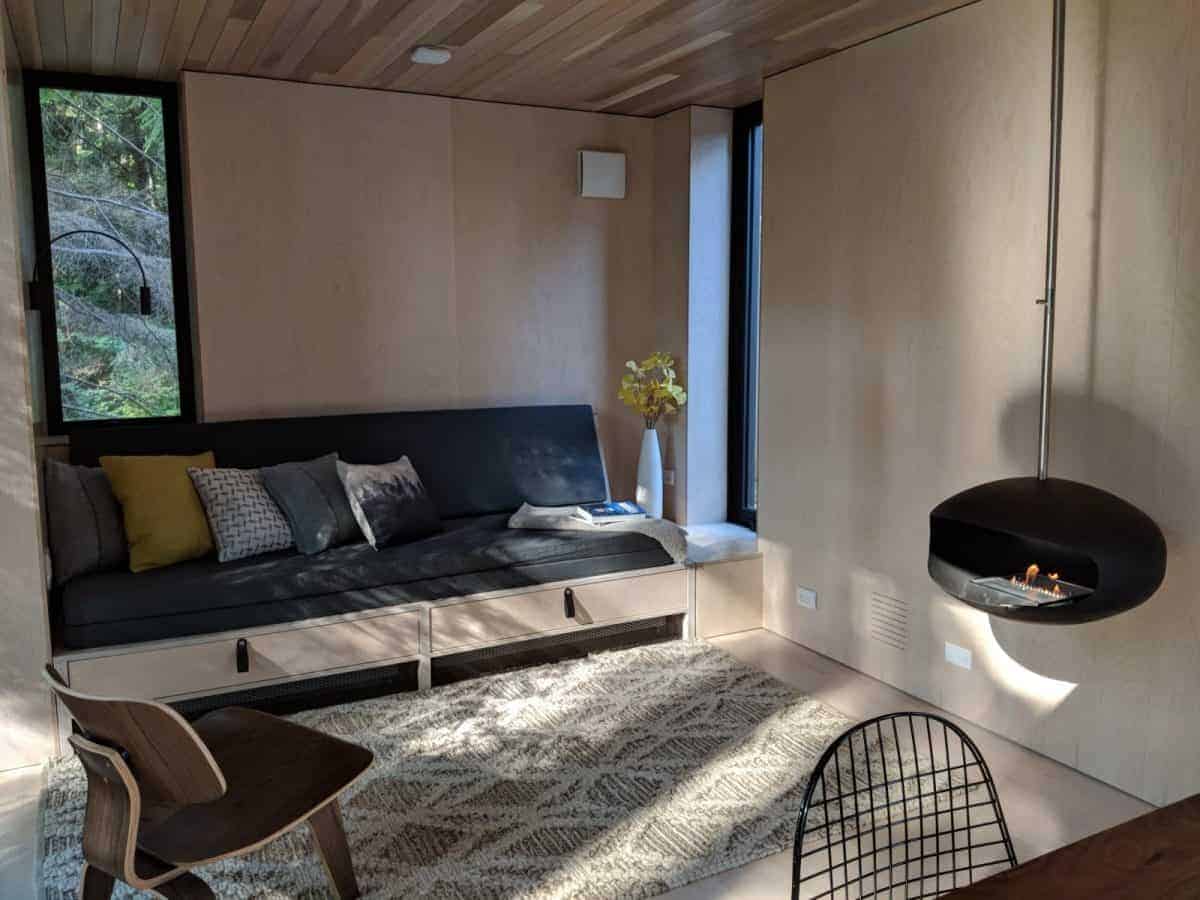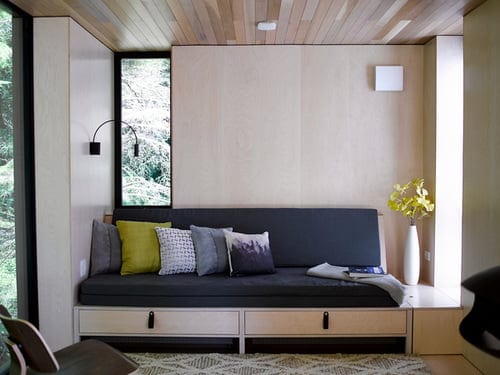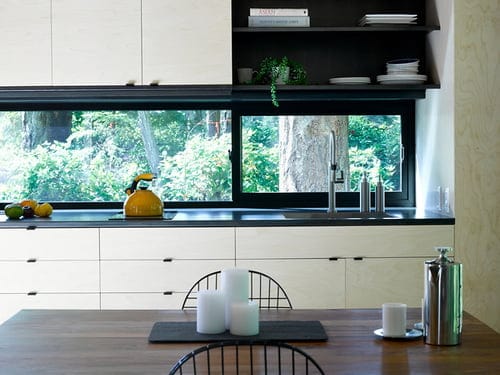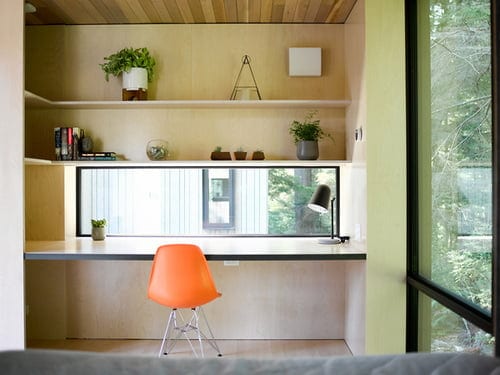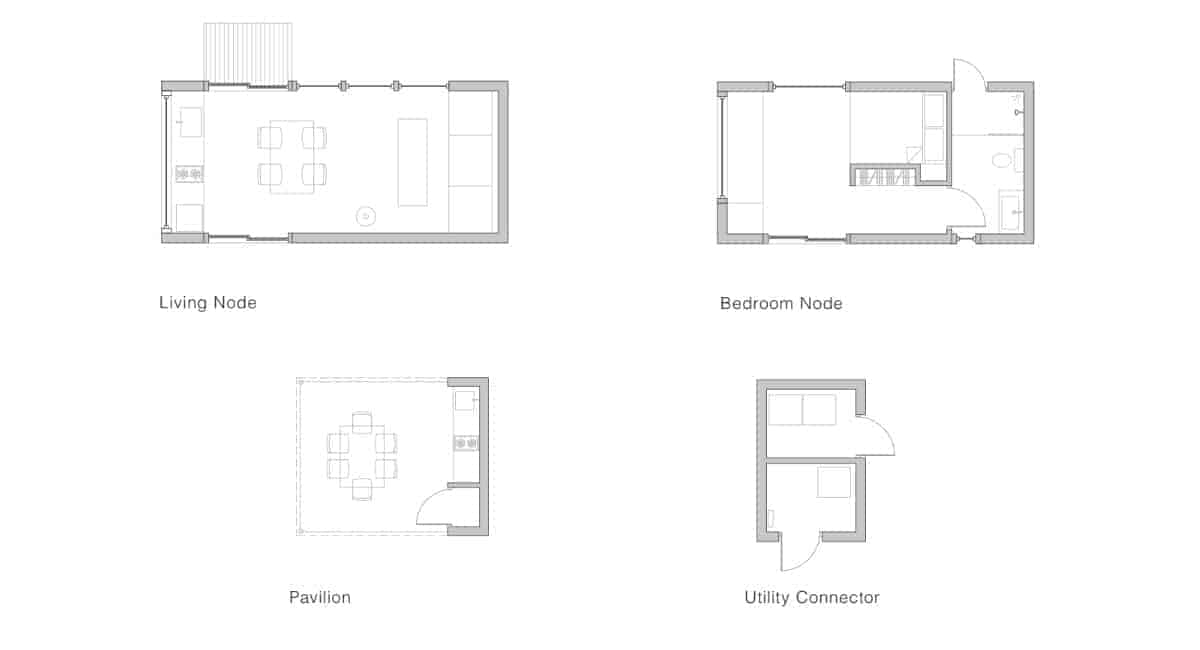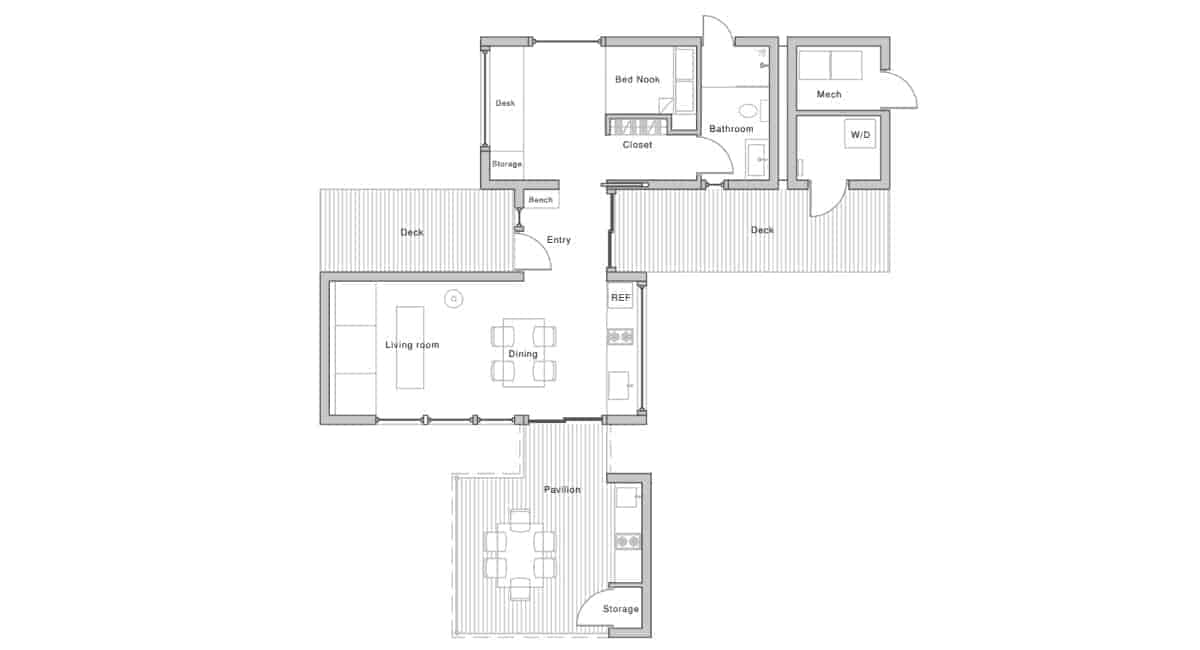 NODE Madrona Series Room Summary (ft.in)
First Floor
Public Living Space
Private Living Space
Bathrooms
Utility Space
Outdoor Space
Build Details
| | |
| --- | --- |
| Foundation: | Diamond Pile or Stem Wall |
| Roofing: | EPDM membrane / Metal |
| Framing: | wood and engineered wood & Forest Stewardship Council (FSC) or Sustainable Forestry Initiative (SFI) wood |
| Shealthing: | OSB, Plywood |
| Construction Notes: | - |
| | |
Insulation
Ceiling:

(R | Type)

R-43.5 at least - Insulation per zone for zero-net energy

Wall:

(R | Type)

R-43.5 at least - Insulation per zone for zero-net energy

Ceiling:

(R | Type)

R-60 at least - Insulation per zone for zero-net energy
Finishes
| | |
| --- | --- |
| Siding: | Fiber Cement / Cedar T&G / Metal Siding |
| Windows: | Alpen High Performance Windows (U-0.26) |
| Entry Doors: | Alpen or Cascadia |
| Sliding / Terrace Doors: | |
| Walls: | Drywall or Paneling |
| Floors: | Wood, laminate or tile (upgrade) |
| Interior Finish Notes: | |
NODE Madrona Package Includes
Appliances
| | |
| --- | --- |
| Range: | Electric (model varies ) |
| Cooktop: | All electric. Make can vary |
| Microwave: | Electric (model varies ) |
| Oven: | Electric (model varies ) |
| Kitchen Hood: | Electric (model varies ) |
| Refrigerator: | Electric (model varies ) |
| Dishwasher: | Electric (model varies ) |
| Washer / Dryer: | Curated packages, upgrade options |
Kitchen
| | |
| --- | --- |
| Countertops: | laminate to quartz to stainless |
| Kitchen Cabinets: | Curated packages, upgrade options |
| Kitchen Sink: | Curated packages, upgrade options |
| Kitchen Faucet: | Curated packages, upgrade options |
Bath
| | |
| --- | --- |
| Bath Sink: | Curated packages, upgrade options |
| Bath Faucet: | Curated packages, upgrade options |
| Toilet: | Curated packages, upgrade options |
| Bath Tub: | Curated packages, upgrade options |
Mechanicals
Water Heater:

Electric

HVAC Heating:

Heat pump

HVAC Cooling:

mini-split option

Ventilation System:

Heat/Energy Recovery System included

Solar Panels:

upgrade option, pre-wired for solar included

Alt Energy System:
Green Home Features:

- options to meet USGBC LEED certification
- Living Building Challenge Certification options
- Passive House design/building principals
- solar w/battery systems option
- ERV/HRV systems included
- Super-insulated based on zone
- low-impact foundation system
- grey water recovery system options
Green Home Features
Green Home Features:

- options to meet USGBC LEED certification
- Living Building Challenge Certification options
- Passive House design/building principals
- solar w/battery systems option
- ERV/HRV systems included
- Super-insulated based on zone
- low-impact foundation system
- grey water recovery system options

Alt Energy System:
Solar Panels:

upgrade option, pre-wired for solar included