GO Home /
1000 SF (Plans A&B)
GO Home 1000 SF (Plans A&B) Prefab Home
The 1000 SF model homes by Go Home offer two standard plan models – plan A and Plan B. Both plans provide open, modern, cottage-style living, perfect as a small primary residence or as a vacation property. The single level home models offer continuous kitchen, dining and living room areas. Plan A offers a generous size screen porch at the rear of the home and a covered entry porch at the front of the home. Plan B offers a slightly larger common living area and loft space above the kitchen.
Both homes offer large spans of glass with groupings of large windows throughout the home, providing extensive natural lighting and passive heat for the home.
As with most GO Home prefab home designs, these homes incorporate many best practices for green building and energy efficiency and are designed to achieve the U.S. Green Building Council LEED (Leadership in Energy and Environmental Design) certification up to Platinum.
The 1000 SF pictured above (House on a Knoll in Bath, Maine) was featured in and on the cover of The Best of Fine Homebuilding Magazine's "Energy Smart Homes."
GO Home 1000 SF (Plans A&B) Features
Near-Zero-Energy design with extremely high energy efficiency
Green building and energy efficiency standards in line with LEED Platinum Certification
80 – 90% improved energy efficiency compared to code-compliant construction
Air tight building envelope with central ventilation and heat recovery system
German ultra-high quality triple pane windows
Rear screen porch
Open concept, single level living
Two bedrooms and full bath
Two standard plans and options for full customization
GO Logic 1000 SF Plan A Images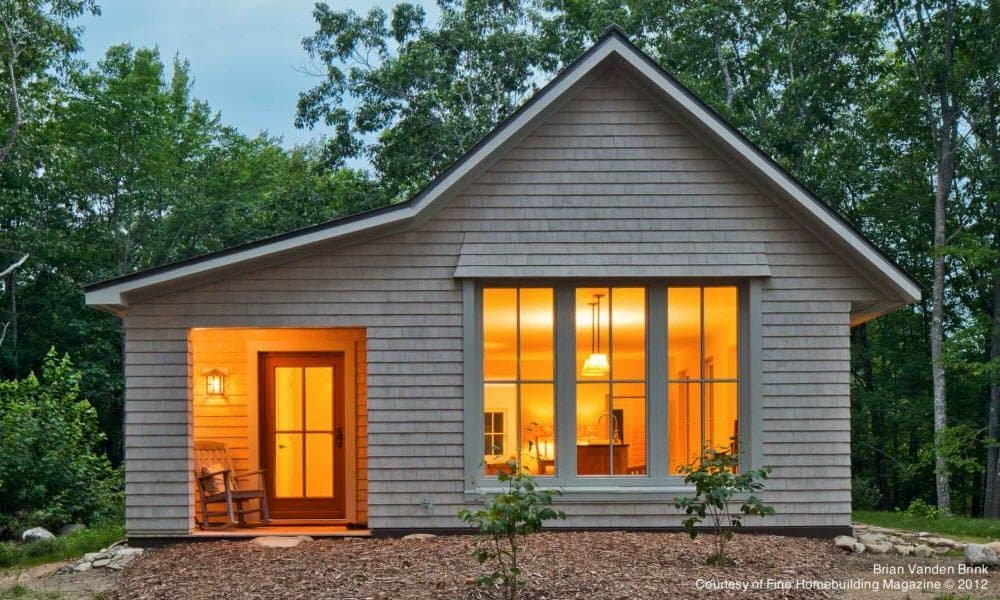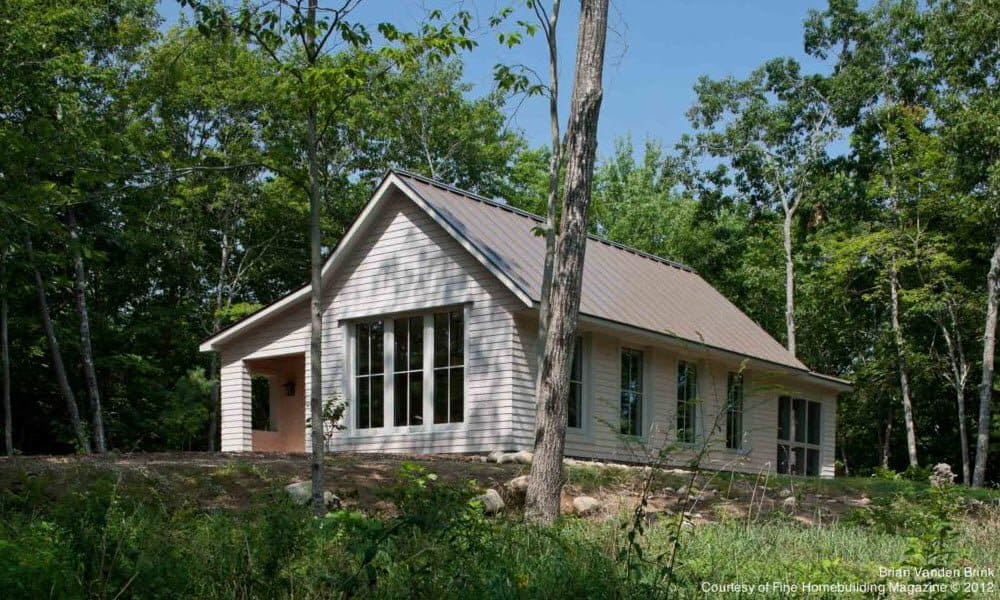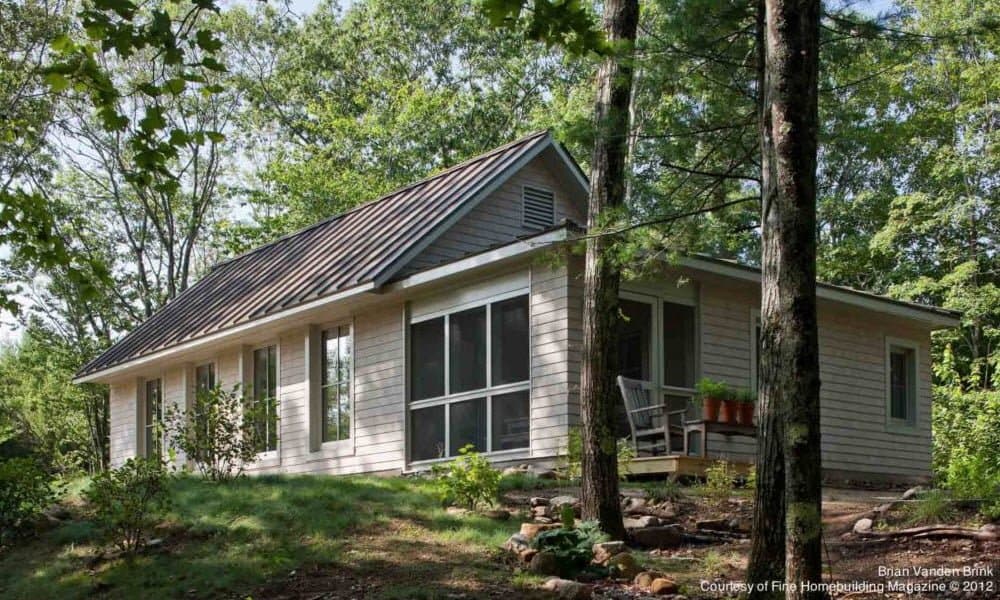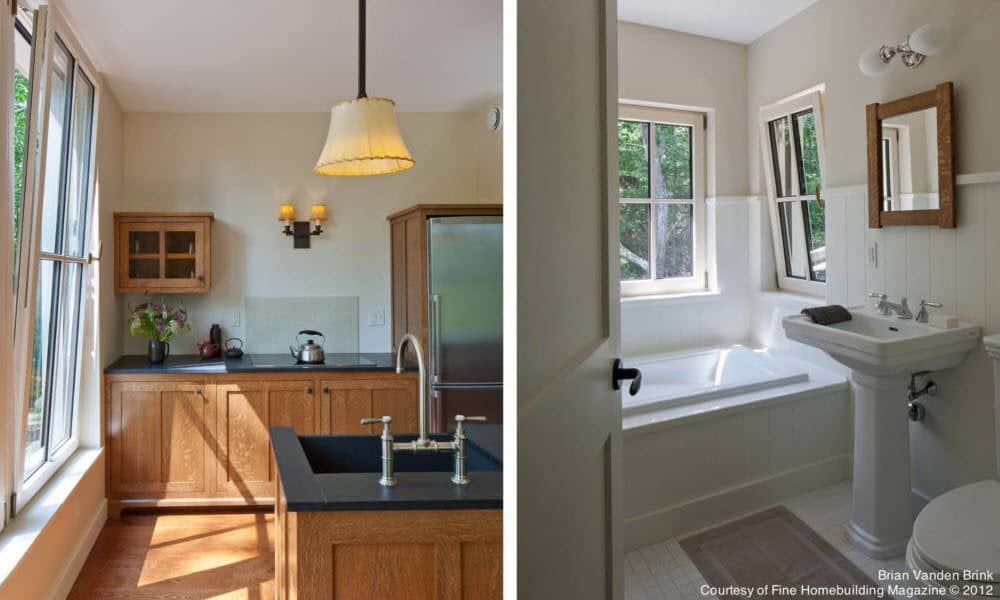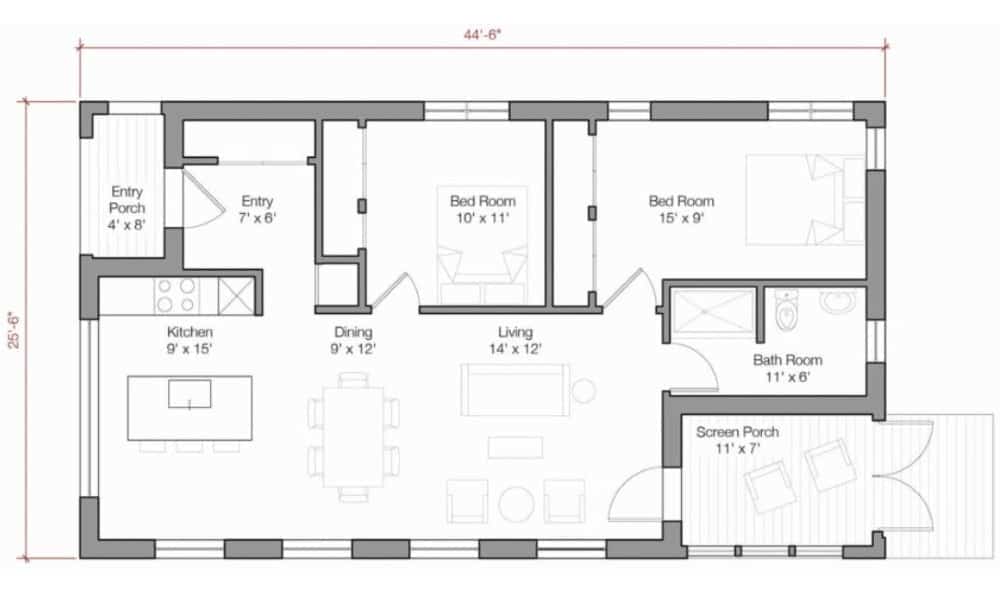 GO Logic 1000 SF Plan B Images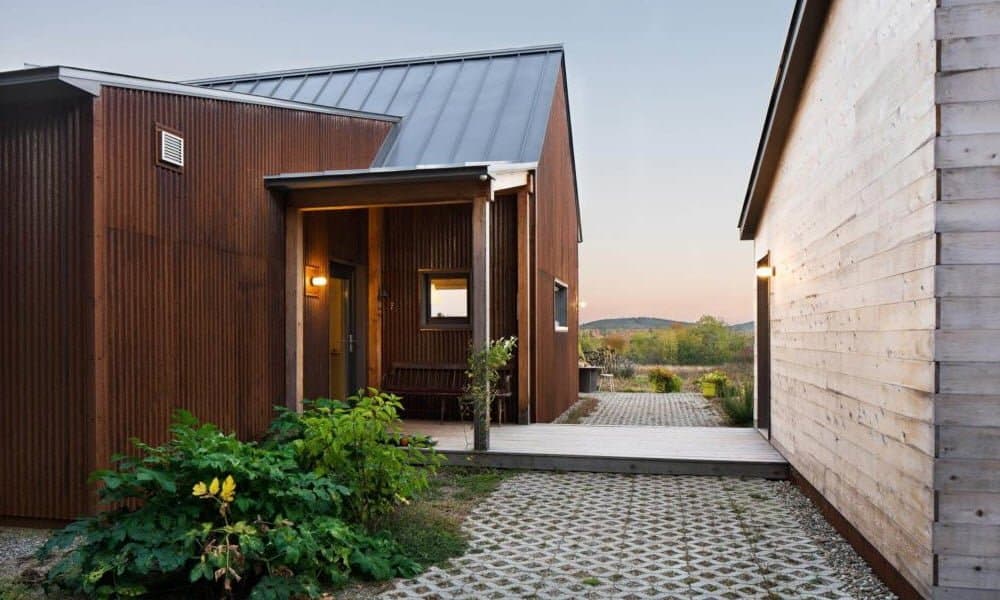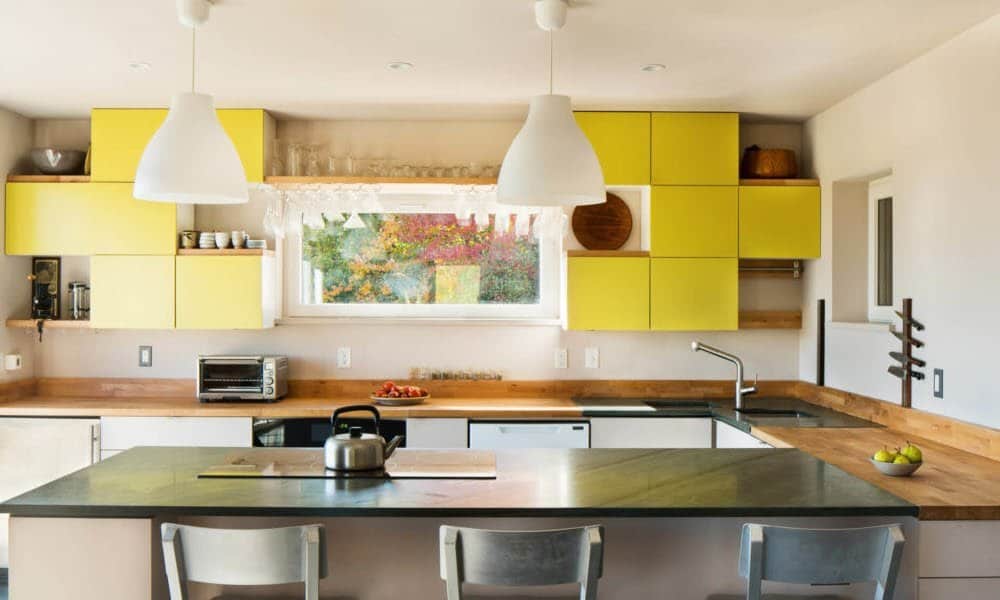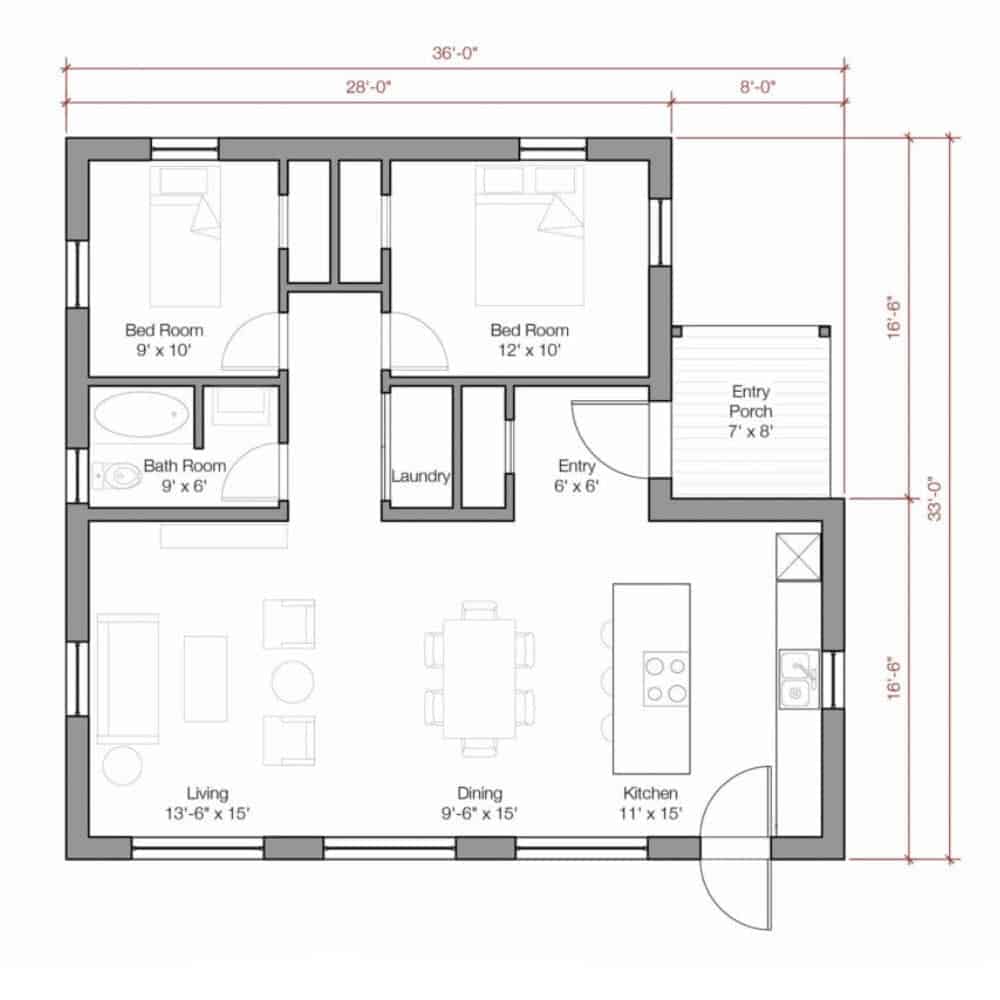 Go Logic 1000 sq ft (Plans A & B) by Go Logic Room Summary (ft.in)
First Floor
Public Living Space
Living (14 x 12)
Dining (12 x 9)
Kitchen (9 x 15)

Private Living Space
Master Bedroom (9 x 15)
Bedroom (11 x 10)

Bathrooms
Full Bath (6 x 11)

Utility Space
Foyer (6 x 6)

Outdoor Space
Screen Porch (7 x 11)
Entry Porch (8 x 4)

Build Details
| | |
| --- | --- |
| Foundation: | Concrete Slab |
| Roofing: | |
| Framing: | |
| Shealthing: | |
| Construction Notes: | Passive House construction. Air sealed structure using ZIP sheathing system. Ventilation system with heat recovery system. |
| | Super Insulated structure with R80 ceiling, R50 walls, R35 foundation. |
Insulation
Ceiling:

(R | Type)

R-50 EPS SIPS + Cellulose

Wall:

(R | Type)

R-50 EPS SIPS + Cellulose

Ceiling:

(R | Type)

R-80 Cellulose
Finishes
| | |
| --- | --- |
| Siding: | |
| Windows: | German triple-glazed by Kneer Sud Fenstern und Turen |
| Entry Doors: | Kneer Sud Fenstern und Turen |
| Sliding / Terrace Doors: | |
| Walls: | Gypsum drywall |
| Floors: | Concrete |
| Interior Finish Notes: | Low-emission finishes; zero-VOC paint, formaldehyde-free cabinets and plywood. |
GO Home 1000 SF (Plans A&B) Package Includes
Appliances
| | |
| --- | --- |
| Range: | |
| Cooktop: | |
| Microwave: | |
| Oven: | |
| Kitchen Hood: | |
| Refrigerator: | |
| Dishwasher: | |
| Washer / Dryer: | |
Kitchen
| | |
| --- | --- |
| Countertops: | Formica and butcher block countertops |
| Kitchen Cabinets: | Ikea |
| Kitchen Sink: | |
| Kitchen Faucet: | |
Bath
| | |
| --- | --- |
| Bath Sink: | |
| Bath Faucet: | water-conserving |
| Toilet: | water-conserving |
| Bath Tub: | |
Mechanicals
| | |
| --- | --- |
| Water Heater: | |
| HVAC Heating: | Electric baseboard or ductless mini split heat pump system |
| HVAC Cooling: | |
| Ventilation System: | Heat recovery ventilation system |
| Solar Panels: | optional |
| Alt Energy System: | Heat recovery ventilation system |
| Green Home Features: | Heat recovery ventilation system, super-insulated shell, German triple-glazed windows and doors, water-conserving fixtures, Zip Systems air-tight shell construction. |
Green Home Features
| | |
| --- | --- |
| Green Home Features: | Heat recovery ventilation system, super-insulated shell, German triple-glazed windows and doors, water-conserving fixtures, Zip Systems air-tight shell construction. |
| Alt Energy System: | Heat recovery ventilation system |
| Solar Panels: | optional |