Go Home 2,500 sq ft Prefab Home
The Go Home 2500 sq ft prefab home model is the largest single family home currently offered by Go Logic and features three bedroom and two baths. Styling of the home is in the modern barn / farmhouse style with simple, functional finishes, a standing seam metal roof and full-width front porch.
The first level of the home features a combined open-space dining and kitchen area with a central kitchen island. The living room area is separated from the kitchen and dining room by sliding doors. The main level also offers a bedroom, three quarter bathroom and a screened porch.
The second floor of the home has a very large main bedroom (20′ x 15′), a large second bedroom (14′ x 15′) and a full bathroom. Also on the second level is a 12′ x 13′ office space with windows in the three exterior walls.
Committed to best practice Green Building and Passive House design, the 2500 SF is exceptionally energy efficient and is capable of the USGD LEED Platinum certification. This home design has been featured in several "Energy Efficient Home" articles and was recently awarded Fine Homebuilding Magazine's "Best Energy-Smart Home" Award for 2014.
Go Home 2,500 sq ft Features
Near-Zero-Energy design with extremely high energy efficiency
Green building and energy efficiency standards in line with LEED Platinum Certification
Original project was Passive House Certified in 2013
The original project was awarded Fine Homebuilding's Houses Award, Best Energy-Smart Home, 2014
80 – 90% improved energy efficiency compared to code-compliant construction
Air tight building envelope with central ventilation and heat recovery system
German ultra-high quality triple pane windows
Full width front entry porch, Side screen porch
Large upper level master bedroom measuring 20′ x 15′
Large upper level second bedroom measuring 14′ x 15′
Full upper level bathroom
Upper level office with three windowed exterior walls
Main level bedroom and 3/4 bathroom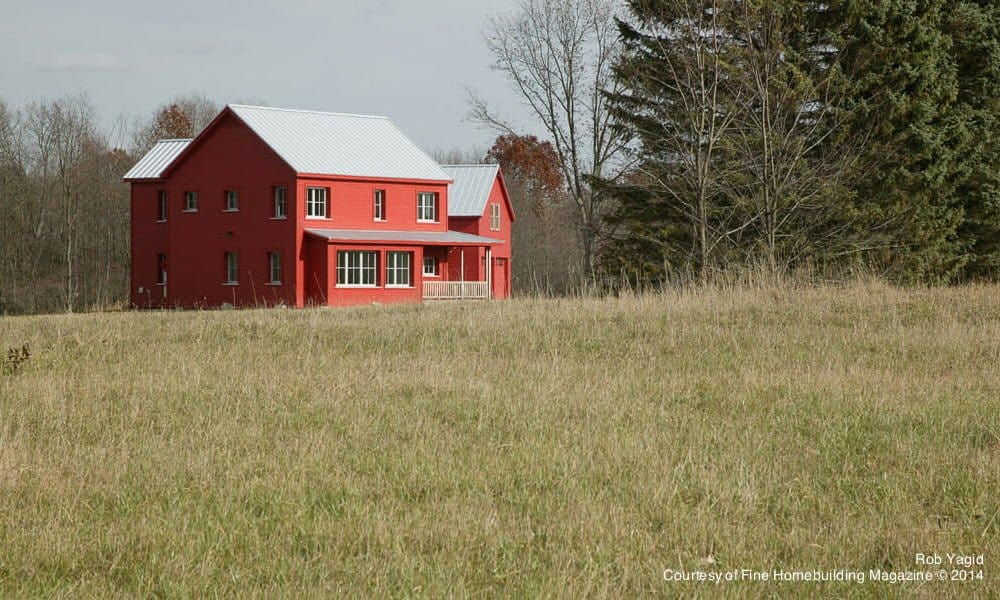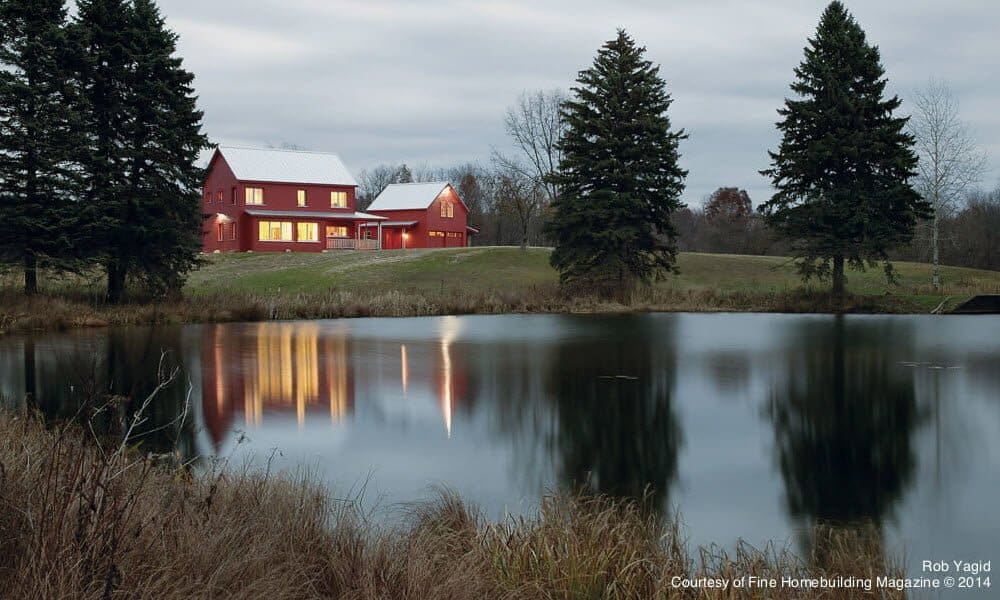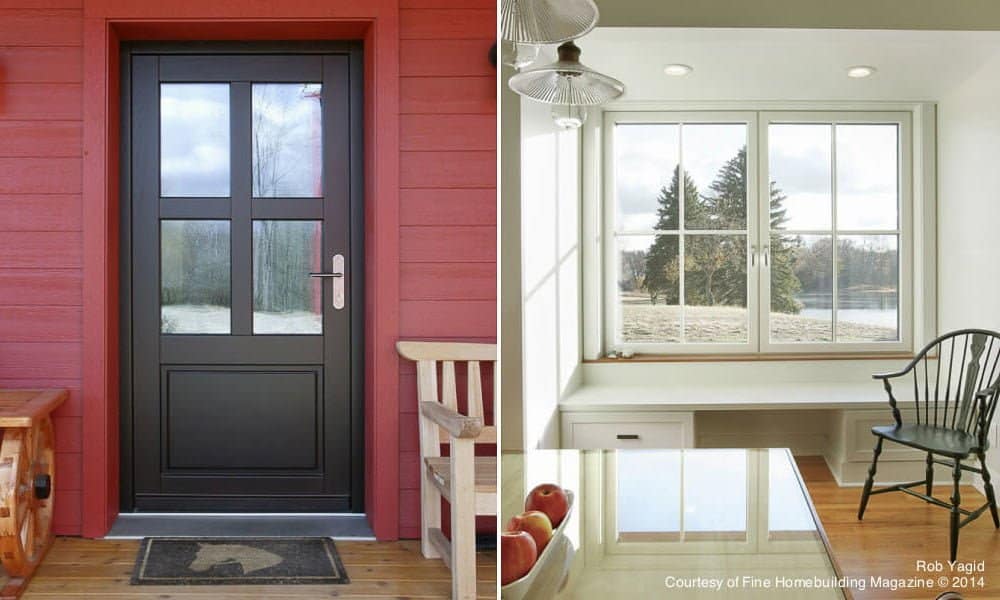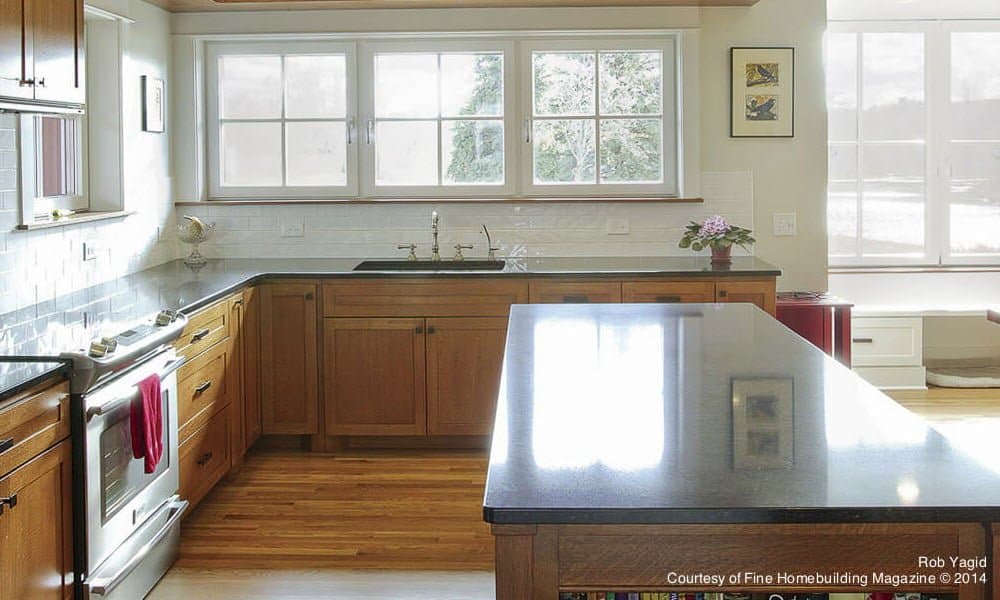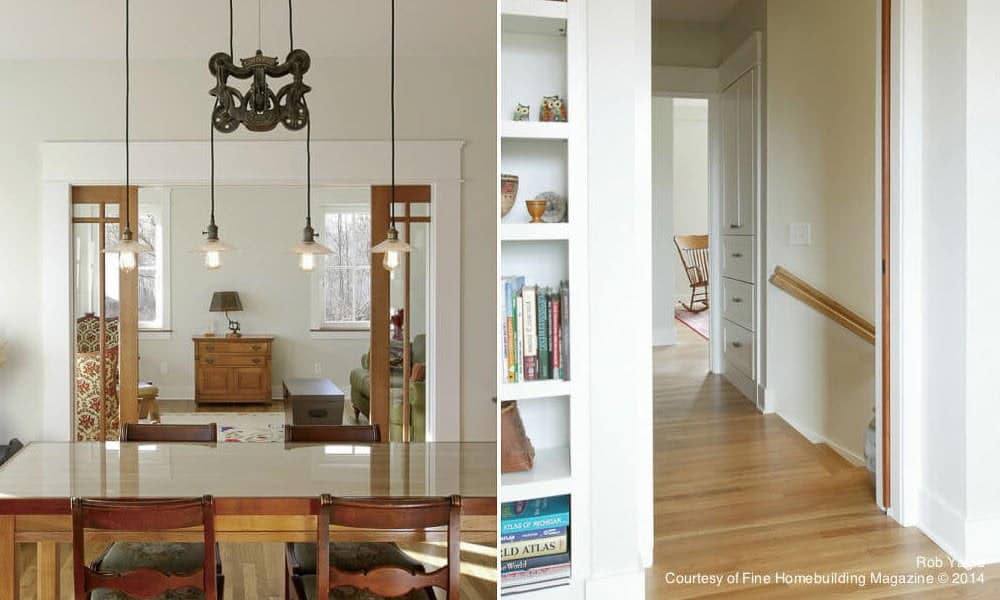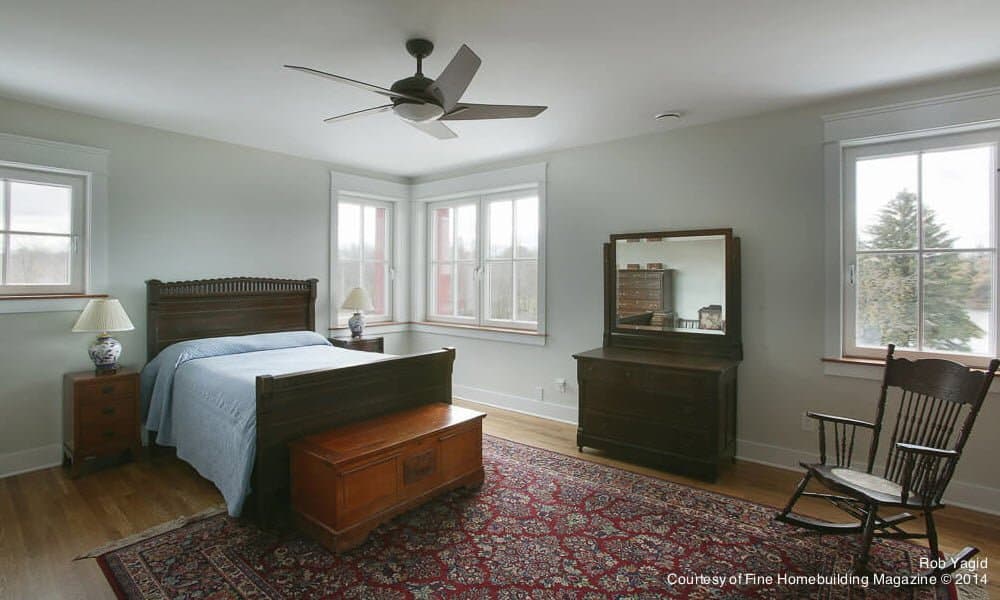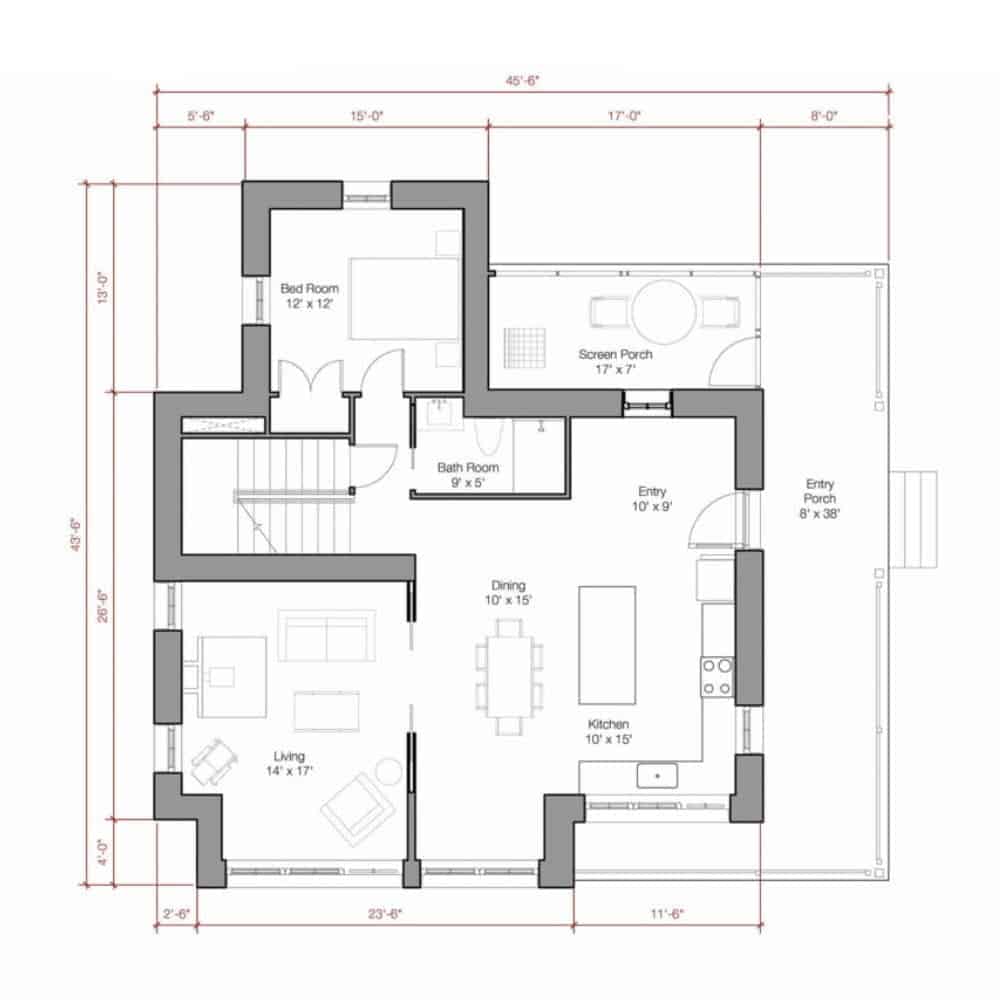 Go Home 2500 sq ft by Go Logic Room Summary (ft.in)
First Floor
Public Living Space
Living (17 x 14)
Dining (19 x 10)
Kitchen (10 x 15)
Office (12 x 13)

Private Living Space
Bedroom (12 x 12)

Bathrooms
3/4 Bath (5 x 9)

Utility Space
Foyer (9 x 10)

Outdoor Space
Screen Porch (17 x 7)
Entry Porch (38 x 8)

Second Floor
Bedrooms
Master Bedroom (20 x 12)
Bedroom (15 x 14)

Bathrooms
Master Bath (9 x 17)

Additional Rooms
Office (13 x 12)

Build Details
| | |
| --- | --- |
| Foundation: | Concrete Slab |
| Roofing: | |
| Framing: | |
| Shealthing: | |
| Construction Notes: | Passive House construction. Air sealed structure using ZIP sheathing system. Ventilation system with heat recovery system. |
| | Super Insulated structure with R80 ceiling, R50 walls, R35 foundation. |
Insulation
Ceiling:

(R | Type)

R-50 EPS SIPS + Cellulose

Wall:

(R | Type)

R-50 EPS SIPS + Cellulose

Ceiling:

(R | Type)

R-80 Cellulose
Finishes
| | |
| --- | --- |
| Siding: | |
| Windows: | German triple-glazed by Kneer Sud Fenstern und Turen |
| Entry Doors: | Kneer Sud Fenstern und Turen |
| Sliding / Terrace Doors: | |
| Walls: | Gypsum drywall |
| Floors: | Concrete |
| Interior Finish Notes: | Low-emission finishes; zero-VOC paint, formaldehyde-free cabinets and plywood. |
Go Home 2,500 sq ft Package Includes
Appliances
| | |
| --- | --- |
| Range: | |
| Cooktop: | |
| Microwave: | |
| Oven: | |
| Kitchen Hood: | |
| Refrigerator: | |
| Dishwasher: | |
| Washer / Dryer: | |
Kitchen
| | |
| --- | --- |
| Countertops: | Formica and butcher block countertops |
| Kitchen Cabinets: | Ikea |
| Kitchen Sink: | |
| Kitchen Faucet: | |
Bath
| | |
| --- | --- |
| Bath Sink: | |
| Bath Faucet: | water-conserving |
| Toilet: | water-conserving |
| Bath Tub: | |
Mechanicals
| | |
| --- | --- |
| Water Heater: | |
| HVAC Heating: | Electric baseboard or ductless mini split heat pump system |
| HVAC Cooling: | |
| Ventilation System: | Heat recovery ventilation system |
| Solar Panels: | optional |
| Alt Energy System: | Heat recovery ventilation system |
| Green Home Features: | Heat recovery ventilation system, super-insulated shell, German triple-glazed windows and doors, water-conserving fixtures, Zip Systems air-tight shell construction. |
Green Home Features
| | |
| --- | --- |
| Green Home Features: | Heat recovery ventilation system, super-insulated shell, German triple-glazed windows and doors, water-conserving fixtures, Zip Systems air-tight shell construction. |
| Alt Energy System: | Heat recovery ventilation system |
| Solar Panels: | optional |