GO Home 600 sq ft Prefab Home
The Go Home 600 SF model prefab home from GO Logic is a single story open floor plan home with combined living, kitchen and dining and single bedroom and one full bathroom. The home offers several large windows and full-width 5″ by 16″ covered entry porch.
The home is designed to feel spacious despite its' limited size with a open living, dining and kitchen space measuring 19″ by 15″, a 9″ by 4″ bathroom and a 12″ by 11″ bedroom.
Like all prefab homes by GO Logic, the home is built green and efficient, making it ideal for harsh climates.
GO Home 600 sq ft Features
Near-Zero-Energy design with extremely high energy efficiency
Green building and energy efficiency standards in line with LEED Platinum Certification
80 – 90% improved energy efficiency compared to code-compliant construction
Air tight building envelope with central ventilation and heat recovery system
German ultra-high quality triple pane windows
Large, full width entry porch
Openspace, single level living
Large 19′ x 11′ main bedroom, decent size second bedroom
Full and 1/2 bathrooms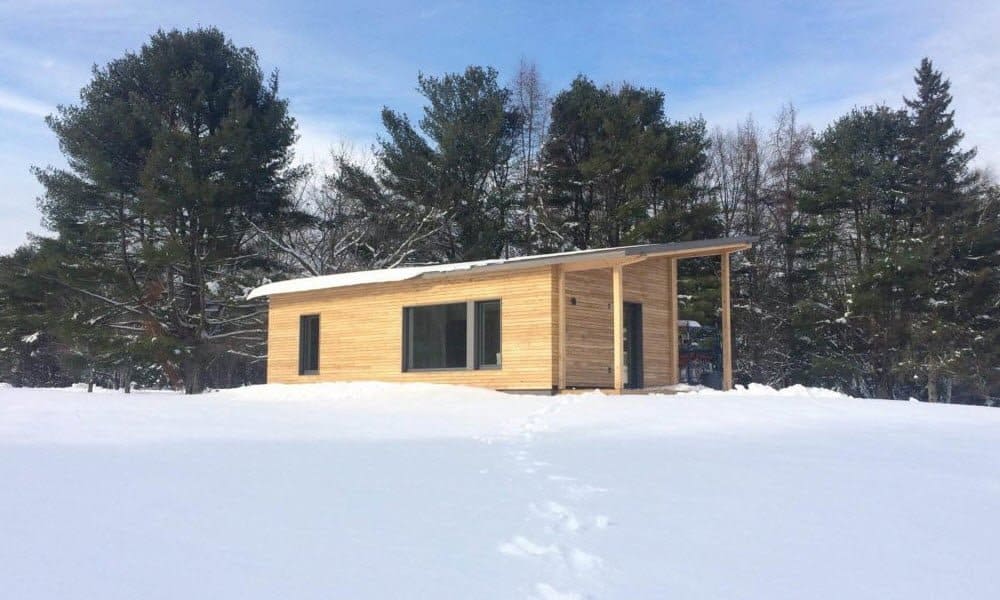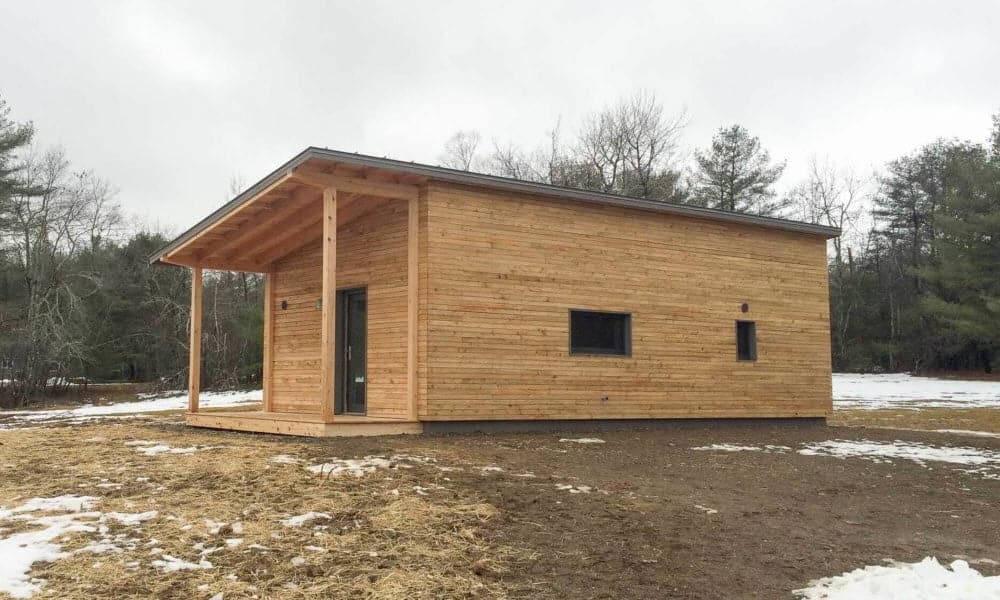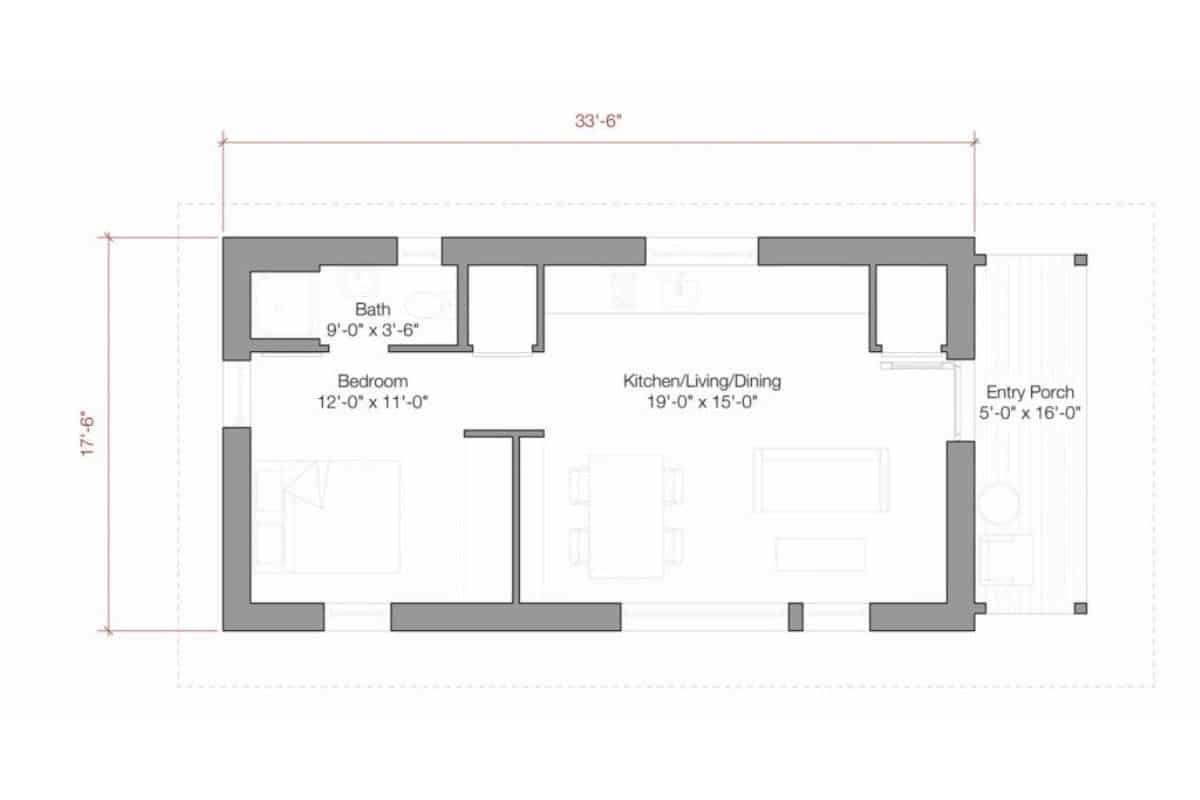 Go Home 600 sq ft by Go Logic Room Summary (ft.in)
First Floor
Public Living Space
Living / Dining (15 x 19)

Private Living Space
Master Bedroom (12 x 11)

Bathrooms
Full Bath (4 x 9)

Utility Space
Outdoor Space
Entry Porch (16 x 5)

Build Details
| | |
| --- | --- |
| Foundation: | Concrete Slab |
| Roofing: | |
| Framing: | |
| Shealthing: | |
| Construction Notes: | Passive House construction. Air sealed structure using ZIP sheathing system. Ventilation system with heat recovery system. |
| | Super Insulated structure with R80 ceiling, R50 walls, R35 foundation. |
Insulation
Ceiling:

(R | Type)

R-50 EPS SIPS + Cellulose

Wall:

(R | Type)

R-50 EPS SIPS + Cellulose

Ceiling:

(R | Type)

R-80 Cellulose
Finishes
| | |
| --- | --- |
| Siding: | |
| Windows: | German triple-glazed by Kneer Sud Fenstern und Turen |
| Entry Doors: | Kneer Sud Fenstern und Turen |
| Sliding / Terrace Doors: | |
| Walls: | Gypsum drywall |
| Floors: | Concrete |
| Interior Finish Notes: | Low-emission finishes; zero-VOC paint, formaldehyde-free cabinets and plywood. |
GO Home 600 sq ft Package Includes
Appliances
| | |
| --- | --- |
| Range: | |
| Cooktop: | |
| Microwave: | |
| Oven: | |
| Kitchen Hood: | |
| Refrigerator: | |
| Dishwasher: | |
| Washer / Dryer: | |
Kitchen
| | |
| --- | --- |
| Countertops: | Formica and butcher block countertops |
| Kitchen Cabinets: | Ikea |
| Kitchen Sink: | |
| Kitchen Faucet: | |
Bath
| | |
| --- | --- |
| Bath Sink: | |
| Bath Faucet: | water-conserving |
| Toilet: | water-conserving |
| Bath Tub: | |
Mechanicals
| | |
| --- | --- |
| Water Heater: | |
| HVAC Heating: | Electric baseboard or ductless mini split heat pump system |
| HVAC Cooling: | |
| Ventilation System: | Heat recovery ventilation system |
| Solar Panels: | optional |
| Alt Energy System: | Heat recovery ventilation system |
| Green Home Features: | Heat recovery ventilation system, super-insulated shell, German triple-glazed windows and doors, water-conserving fixtures, Zip Systems air-tight shell construction. |
Green Home Features
| | |
| --- | --- |
| Green Home Features: | Heat recovery ventilation system, super-insulated shell, German triple-glazed windows and doors, water-conserving fixtures, Zip Systems air-tight shell construction. |
| Alt Energy System: | Heat recovery ventilation system |
| Solar Panels: | optional |