Go Home /
800 sq ft Seasonal
Go Home 800 sq ft Seasonal Prefab Home
The Go Home 800 SF from the GO Logic is multi-unit residence made up of a single larger living/dining/kitchen unit and two smaller bedroom/bathroom units. The larger living/dining/kitchen unit is open and spacious measuring 25″ by 14″ and features a two-sided wrap around deck. The deck-connected two bedroom/bathroom units are reasonably sized with an 13″ by 11″ bedroom area and an 4″ by 11″ full bath in each.
The units are lite-filled with several large windows and all have sliding glass doors.
Built green, air-tight and extremely well insulated, the 1300 SF is designed to provide very low cost living and capable of USGB LEED certification up to platinum status.
Go Home 800 sq ft Seasonal Features
AIA Maine Design Award, Honor Award, 2016
Custom Home Magazine, Grand Award, 2015
AIA New England Design Award, Honor Award, 2015
80 – 90% improved energy efficiency compared to code-compliant construction
Air tight building envelope with central ventilation and heat recovery system
German ultra-high quality triple pane windows
Open concept living room, dining room and kitchen layout
Wrap-around decking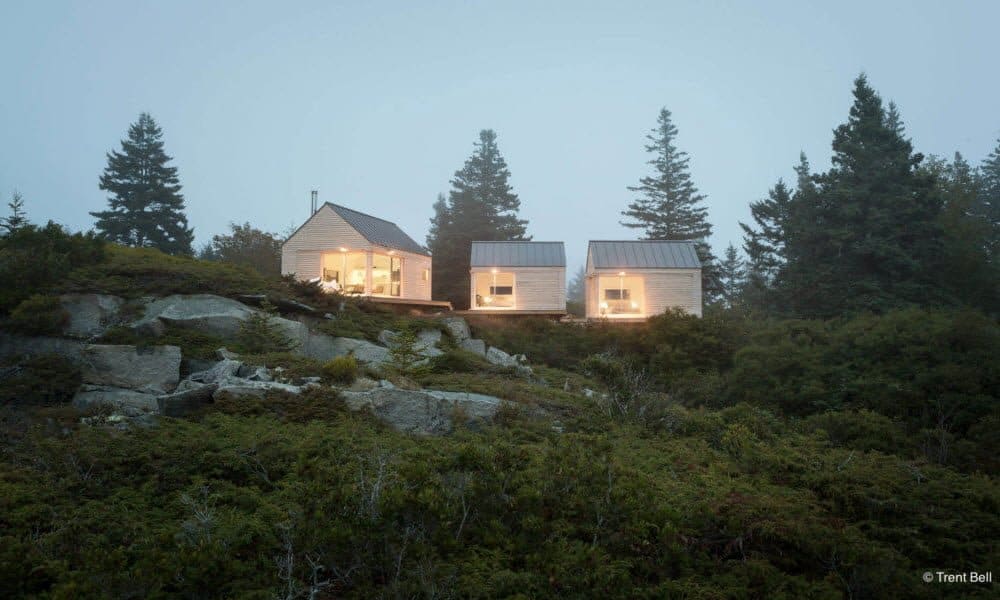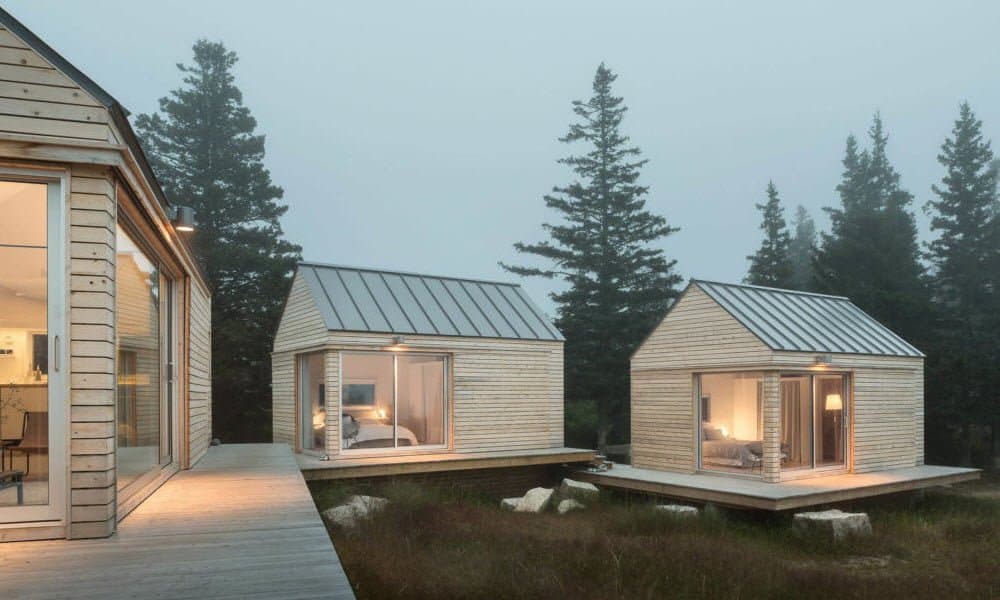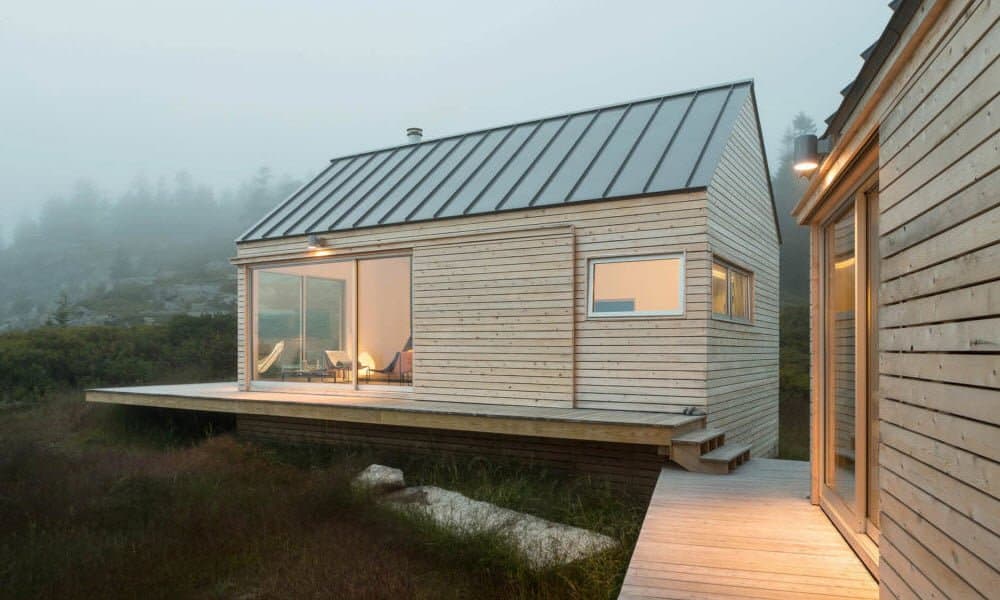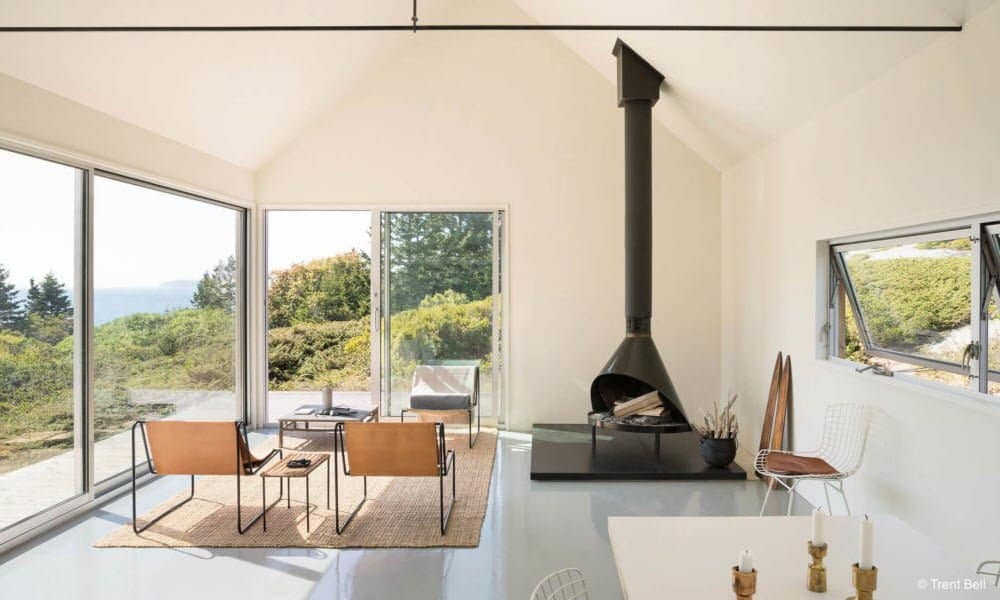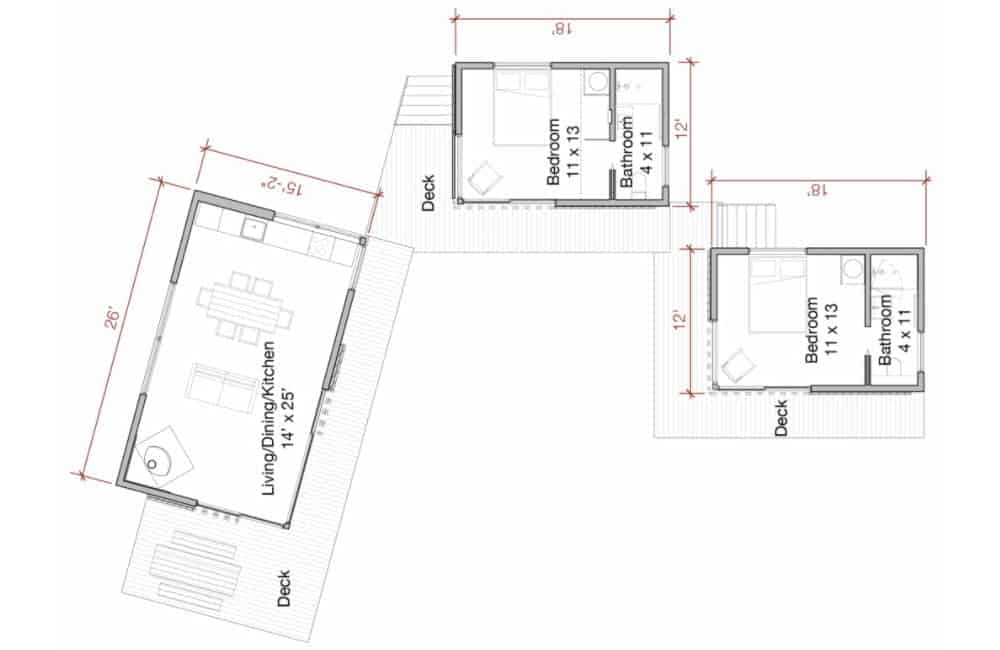 Go Home 800 sq ft Seasonal Residence by Go Logic Room Summary (ft.in)
First Floor
Public Living Space
Private Living Space
Bedroom (11 x 13)
Bedroom (11 x 13)

Bathrooms
Full Bath (4 x 11)

Utility Space
Outdoor Space
Second Floor
Bedrooms
Master Bedroom (10 x 14)
Bedroom (9 x 12)
Bedroom (10 x 11)

Bathrooms
Full Bath (5.5 x 9)

Additional Rooms
Hall (4 x 13)

Laundry (6 x 3)

Build Details
| | |
| --- | --- |
| Foundation: | Concrete Slab |
| Roofing: | |
| Framing: | |
| Shealthing: | |
| Construction Notes: | Passive House construction. Air sealed structure using ZIP sheathing system. Ventilation system with heat recovery system. |
| | Super Insulated structure with R80 ceiling, R50 walls, R35 foundation. |
Insulation
Ceiling:

(R | Type)

R-50 EPS SIPS + Cellulose

Wall:

(R | Type)

R-50 EPS SIPS + Cellulose

Ceiling:

(R | Type)

R-80 Cellulose
Finishes
| | |
| --- | --- |
| Siding: | |
| Windows: | German triple-glazed by Kneer Sud Fenstern und Turen |
| Entry Doors: | Kneer Sud Fenstern und Turen |
| Sliding / Terrace Doors: | |
| Walls: | Gypsum drywall |
| Floors: | Concrete |
| Interior Finish Notes: | Low-emission finishes; zero-VOC paint, formaldehyde-free cabinets and plywood. |
Go Home 800 sq ft Seasonal Package Includes
Appliances
| | |
| --- | --- |
| Range: | |
| Cooktop: | |
| Microwave: | |
| Oven: | |
| Kitchen Hood: | |
| Refrigerator: | |
| Dishwasher: | |
| Washer / Dryer: | |
Kitchen
| | |
| --- | --- |
| Countertops: | Formica and butcher block countertops |
| Kitchen Cabinets: | Ikea |
| Kitchen Sink: | |
| Kitchen Faucet: | |
Bath
| | |
| --- | --- |
| Bath Sink: | |
| Bath Faucet: | water-conserving |
| Toilet: | water-conserving |
| Bath Tub: | |
Mechanicals
| | |
| --- | --- |
| Water Heater: | |
| HVAC Heating: | Electric baseboard or ductless mini split heat pump system |
| HVAC Cooling: | |
| Ventilation System: | Heat recovery ventilation system |
| Solar Panels: | optional |
| Alt Energy System: | Heat recovery ventilation system |
| Green Home Features: | Heat recovery ventilation system, super-insulated shell, German triple-glazed windows and doors, water-conserving fixtures, Zip Systems air-tight shell construction. |
Green Home Features
| | |
| --- | --- |
| Green Home Features: | Heat recovery ventilation system, super-insulated shell, German triple-glazed windows and doors, water-conserving fixtures, Zip Systems air-tight shell construction. |
| Alt Energy System: | Heat recovery ventilation system |
| Solar Panels: | optional |